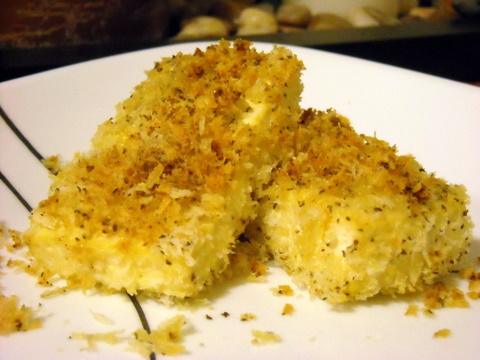 Tofu is super versatile; it's delicious baked, fried, or even plain. It can be made to taste like basically anything, depending on the seasonings used. It's often recommended to press tofu to allow the flavor to permeate more thoroughly, but it's not truly necessary for this recipe adapted from Chow Vegan. Baked tofu is great several ways; right out of the oven with some dipping sauces on the side, in wraps with fresh veggies, or as a cold topping for salads. This makes about four servings.
Ingredients
1 block of extra firm tofu
1 cup panko breadcrumbs
1 teaspoon garlic powder
1 teaspoon onion powder
1/4 teaspoon paprika
Pinch of sea salt
Olive oil as needed
Directions
1. Preheat oven to 350 degrees.
2. Combine the breadcrumbs and seasonings in a bowl. Add some olive oil to a separate bowl (not too much, you can always add more as you go).
2. Drain the tofu and cut it into slices sized to your liking. Dip each slice in the olive oil and then coat liberally with breadcrumbs.
3. Line a baking pan with aluminum foil and grease lightly with olive oil. Place the tofu slices on the pan and bake for about 15 minutes on each side, or until breadcrumbs are slightly browned.