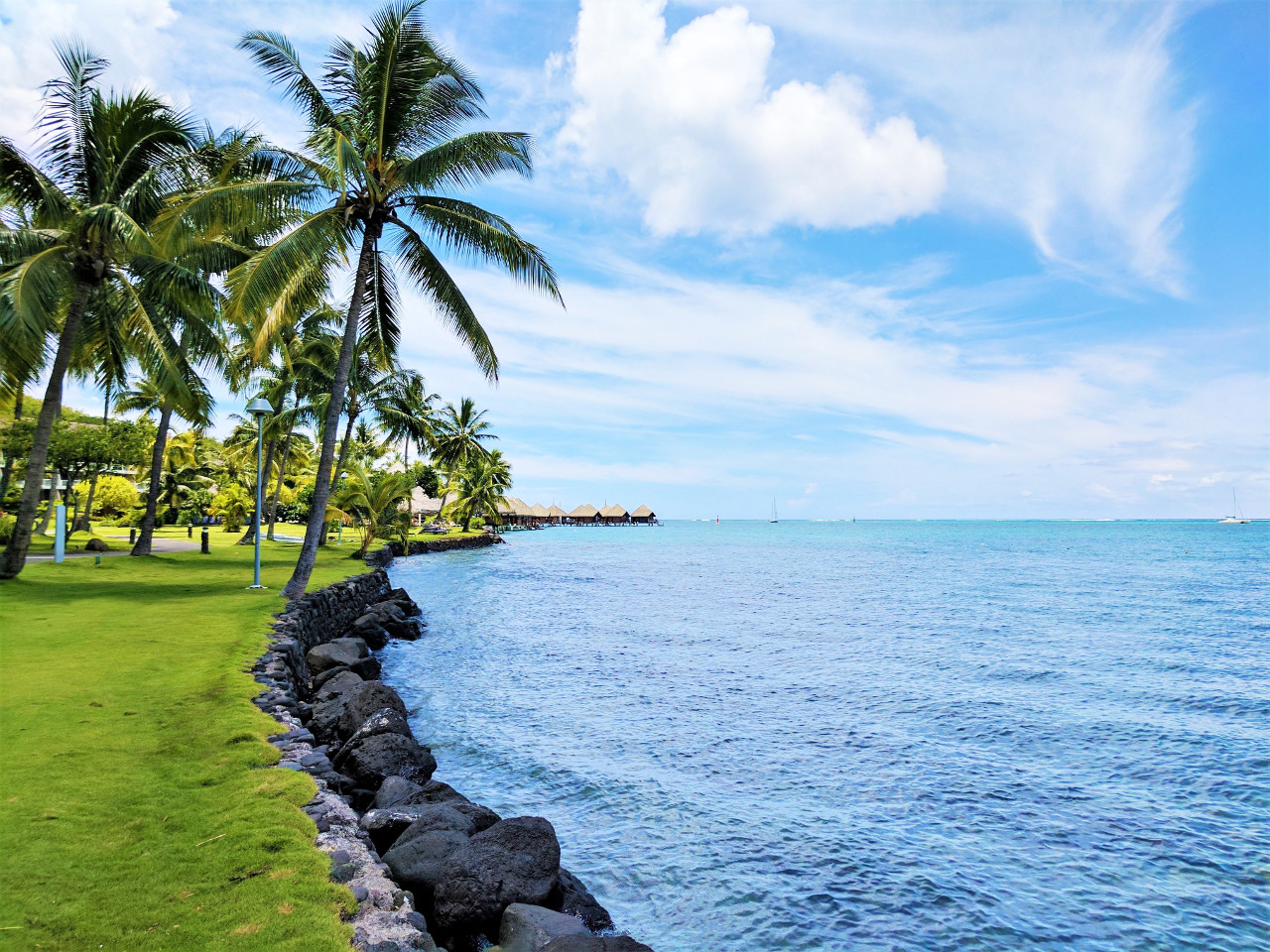 I've always wanted to go to Tahiti, and in January of 2017 I was lucky enough to have the chance!
On our way back from our trip to Australia, Richard and I took a detour and spent three days in Tahiti. Neither of us had ever been there before and we were excited to go to such a beautiful place. We stayed at the Intercontinental Resort and Spa, a beautiful getaway with infinity pools, swim up bars and over-water bungalows. Although we didn't stay in a bungalow, we had a nice-sized room with a balcony facing the ocean.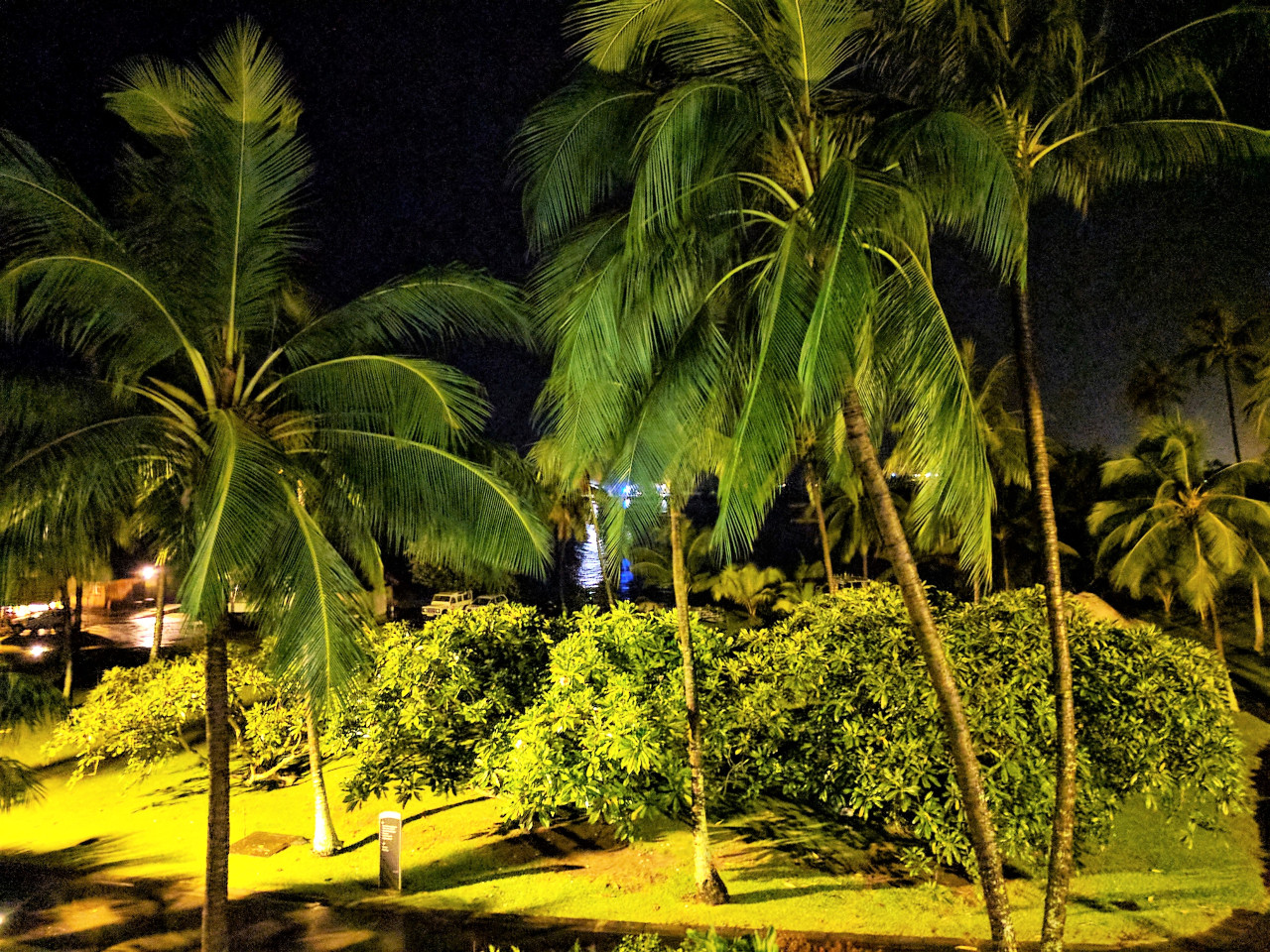 We flew Air Tahiti Nui, from Australia to Tahiti (and then later from Tahiti to LAX), which allowed Richard to specify vegan meals for us. They provided steamed vegetables with tomato sauce, bread and non-dairy butter, and hash browns served with rice and spinach, which was our favorite – it sounds like a weird combination but it was surprisingly good.
Richard had emailed the resort in advance to mention our dietary restrictions and to request information on what options would be available. He also asked if it was possible to get a toaster oven and/or a microwave added to our room. They replied promptly and advised that the chef at "The Tiare" restaurant would be able to provide vegan meals, and they also kindly granted our requests for both a microwave and toaster!  
As we sometimes do when traveling, we brought some items with us from Australia. One of those was Susan's homemade bread – she baked a whole loaf for us to bring, perfect for sandwiches! On our first day at the resort we walked to one of the local supermarkets to get some fresh items. It wasn't too far of a hike, but it was hot and we were happy to get into air-conditioning. We bought lettuce, tomato and onions for sandwiches, and alcohol (we were on vacation after all!).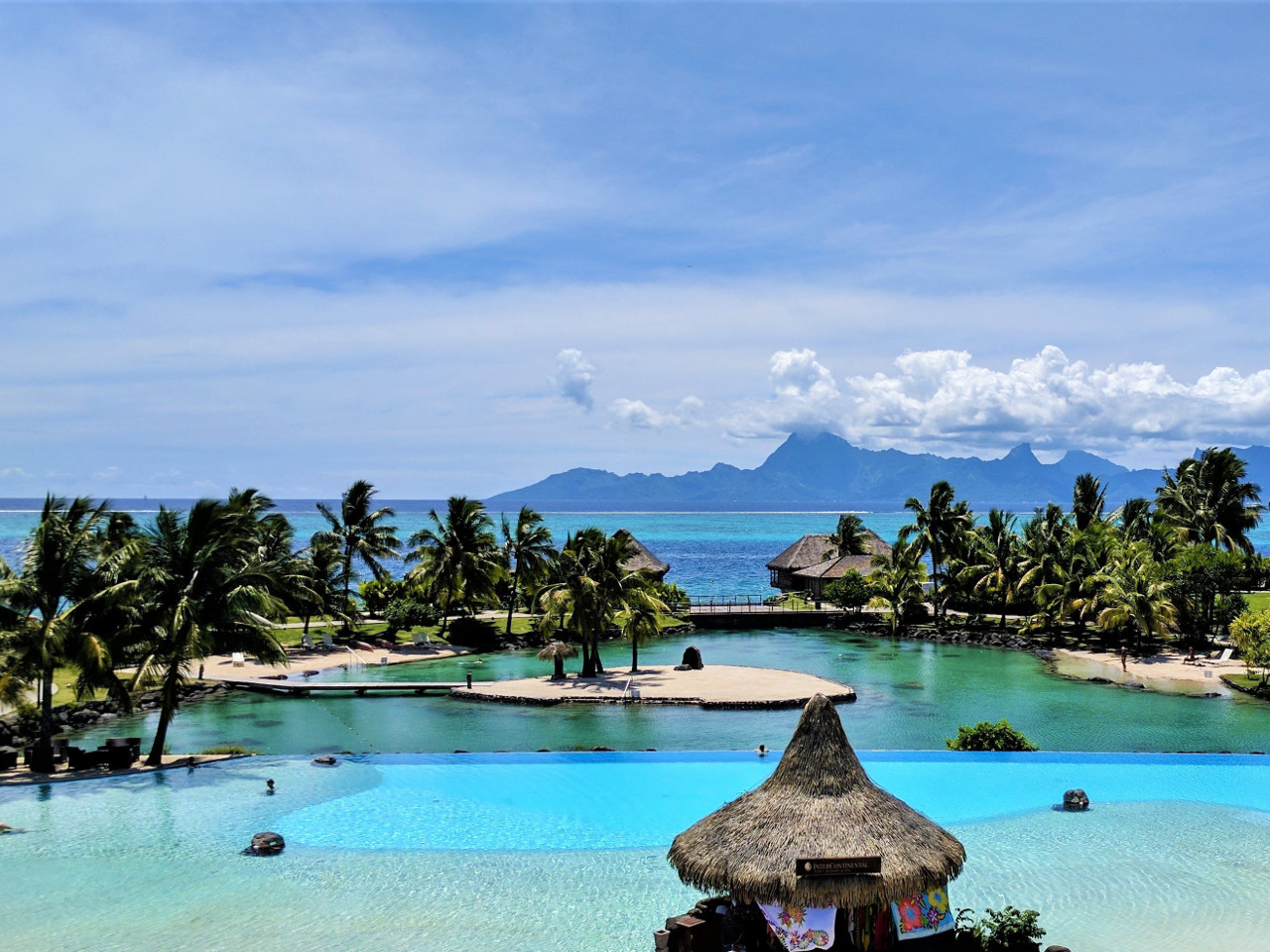 We made lunch in our room the first day and ate it while sitting on the balcony watching the birds fly around, and being watched ourselves by adorable tiny lizards called Indo-Pacific geckos. They were everywhere! They climb all over the walls and ceilings and just hang out. A really cool fact about these lizards is that they are parthenogenic, meaning they're all female, so their eggs don't require fertilization.
That night we had dinner at "The Tiare" restaurant. We told our server of our dietary requirements, and he helpfully recommended items that would work for us. We both had the cold cucumber soup appetizer with a dollop of coconut cream on top. Neither of us normally likes cold soup, so we were pleasantly surprised by how delicious it was! I also got a stir fry with vegetables and tofu, and Richard had pasta with marinara sauce and basil. Both dishes were excellent, and like the soup even better than we anticipated. Of course we got some fancy drinks as well (isn't that a requirement when you go to a tropical island?).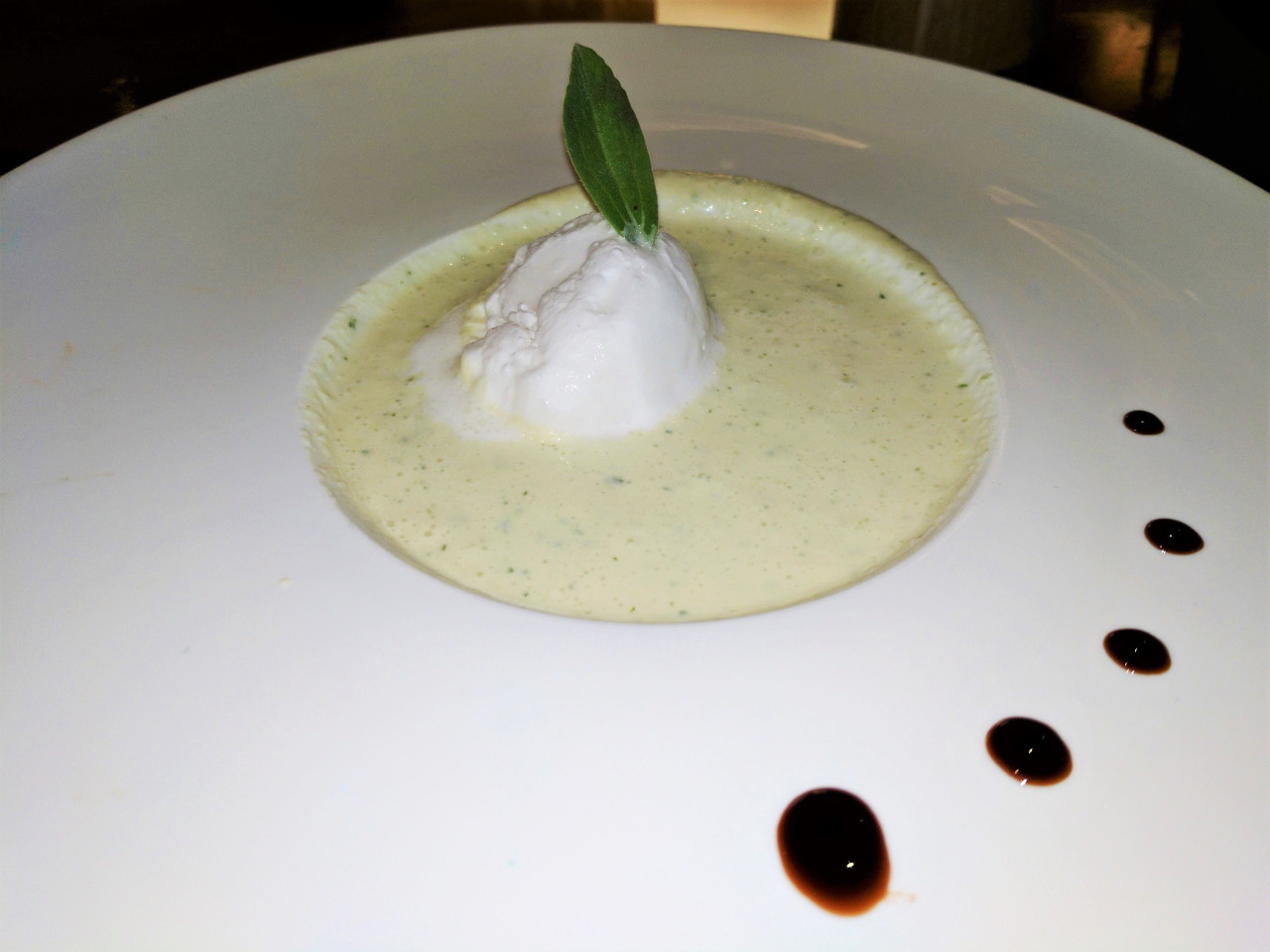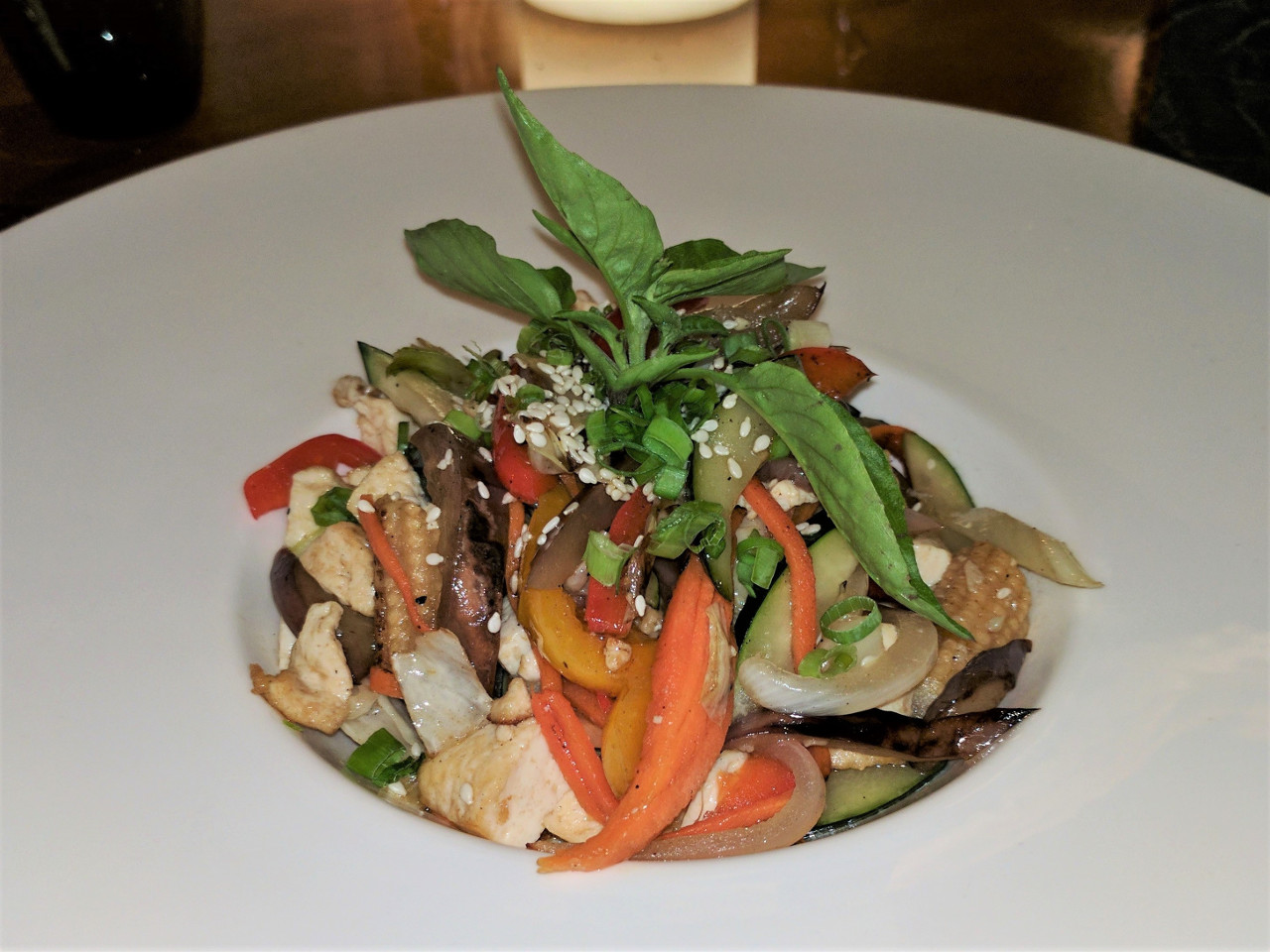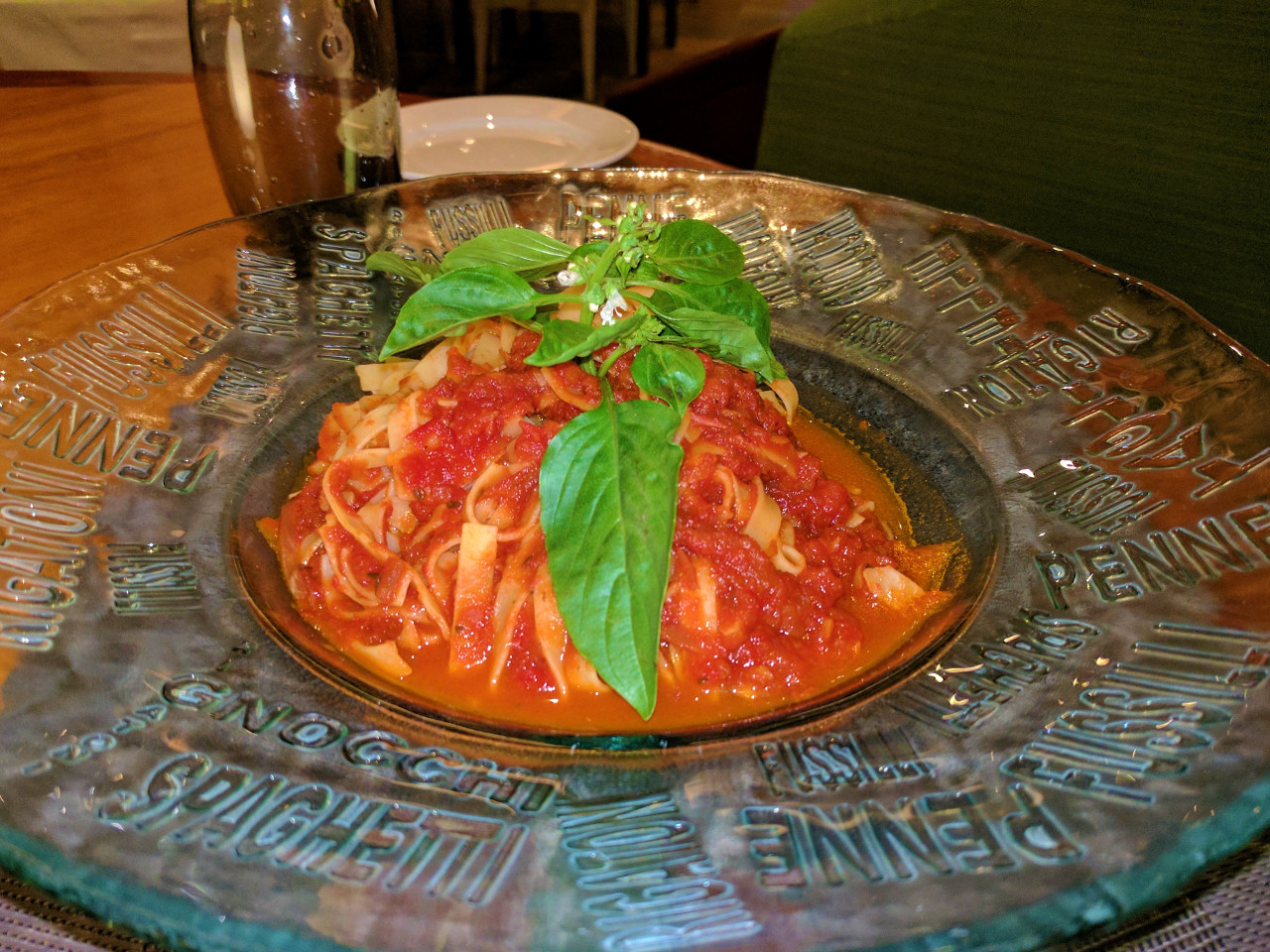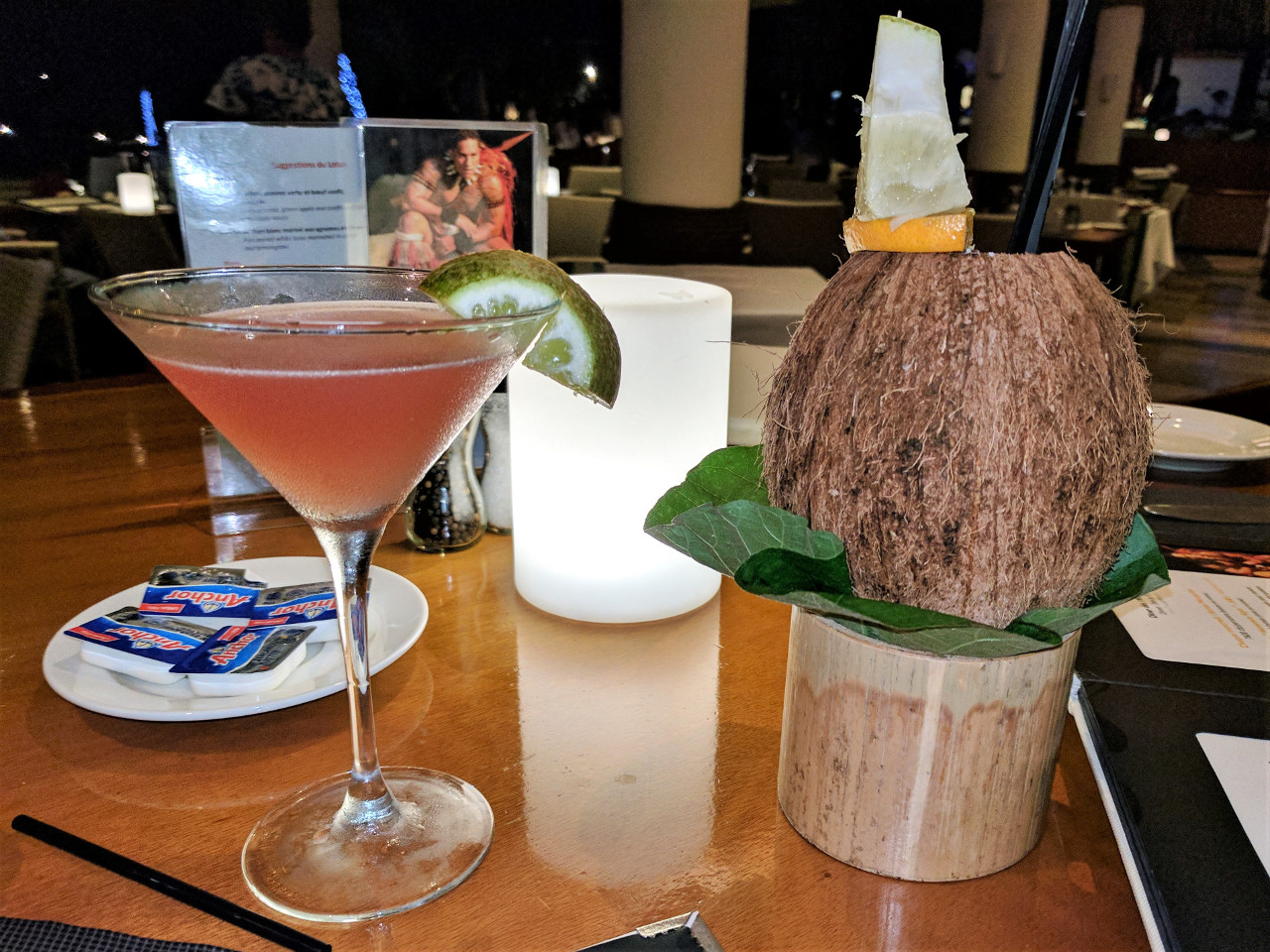 We went back for lunch the next day, where we shared a veggie pizza, which was really good – the sauce was great and the veggies and crust were cooked perfectly.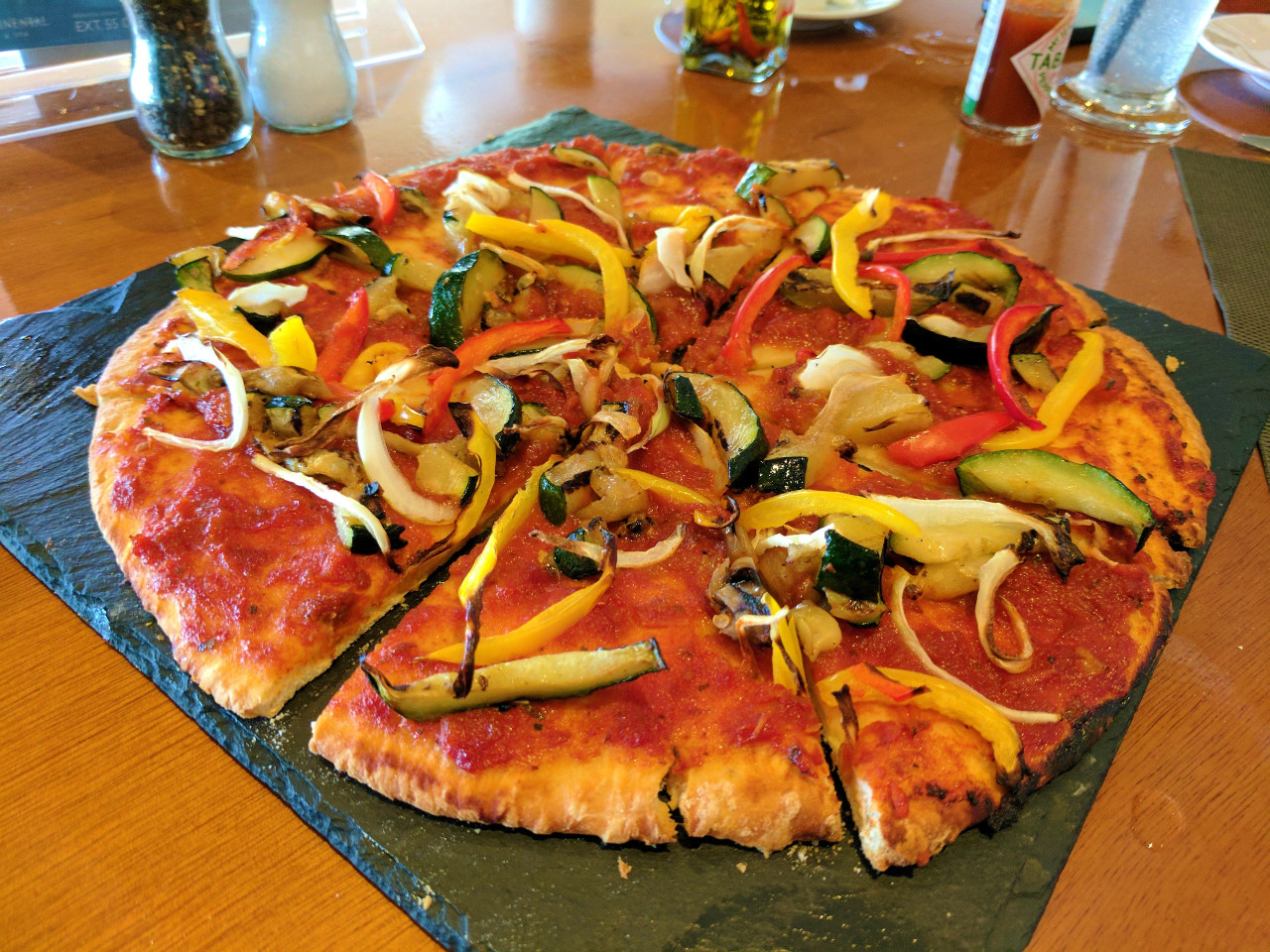 We had one final meal at the restaurant, on our last night there. Richard got the veggies and tofu stir fry that I had ordered previously, and I got a panini with tofu, tomatoes and a side of french fries. The panini was the least exciting thing we ate – it was pretty bland as it only had some olive oil on it, and the tofu wasn't very seasoned. The fries were great though. 🙂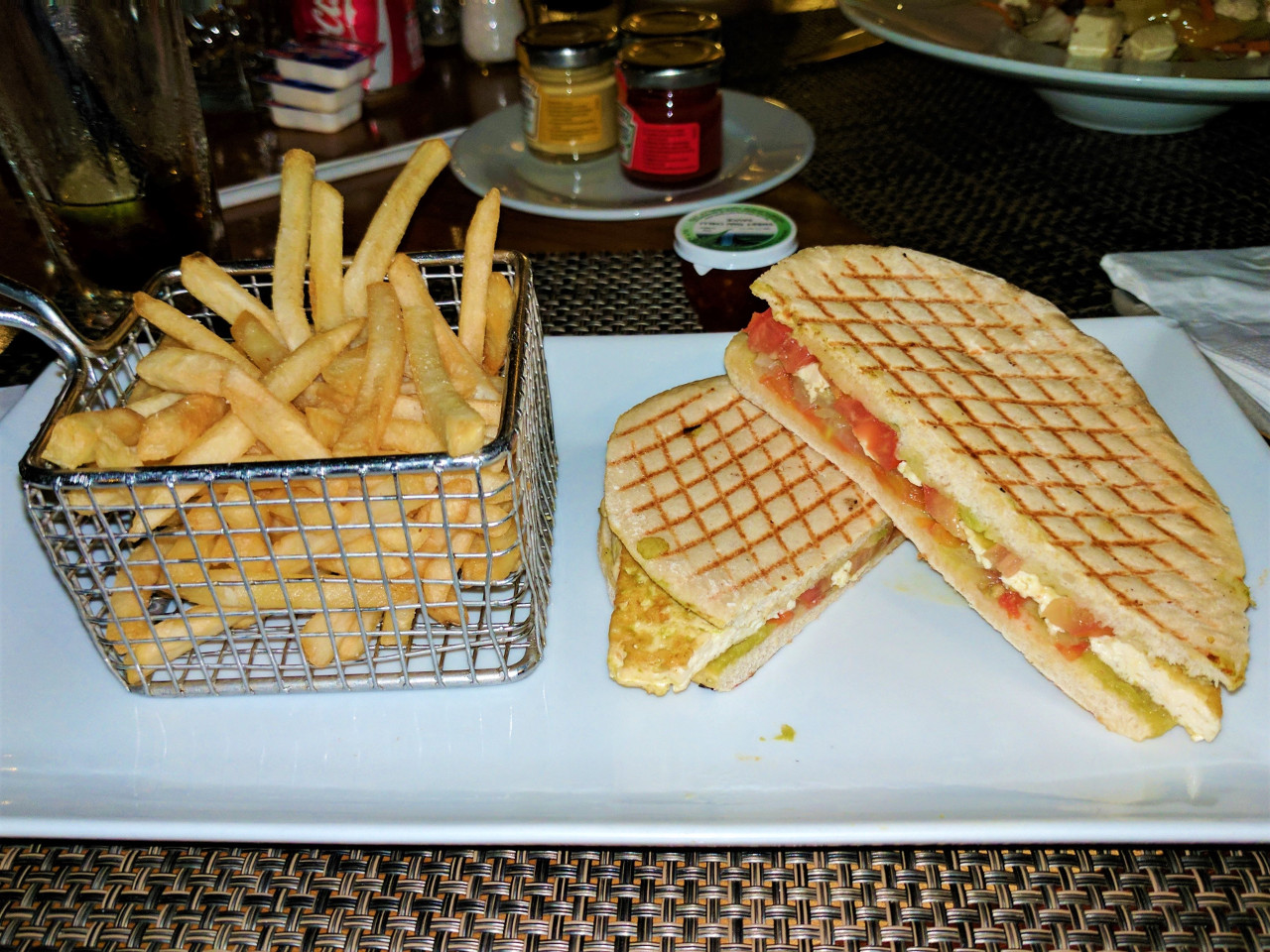 The weather in January was hot and humid, and it did rain a lot. We got caught in the rain a few times while sitting by the pool, but it was kind of nice because it was less crowded – at one point we even had the pool to ourselves!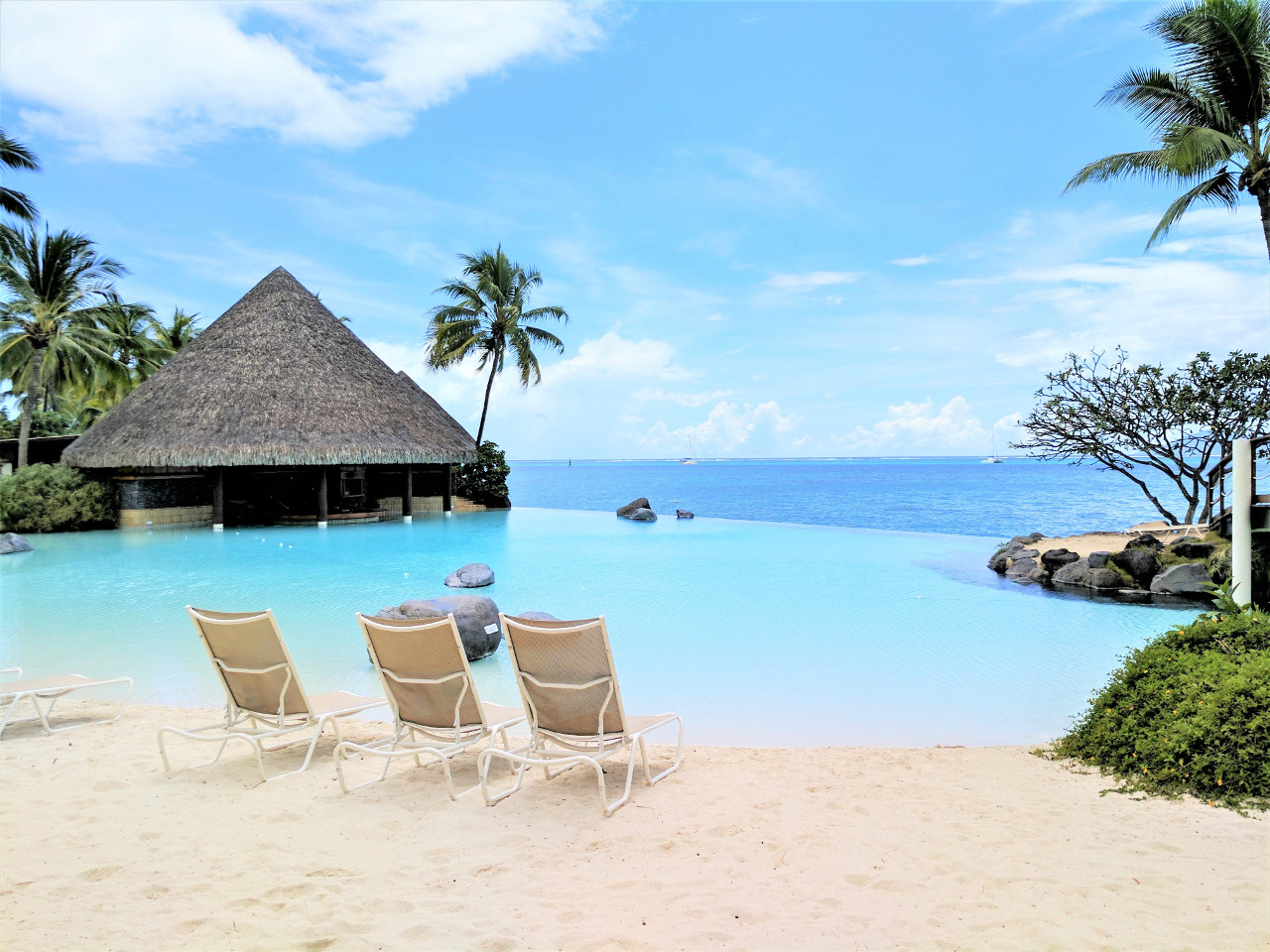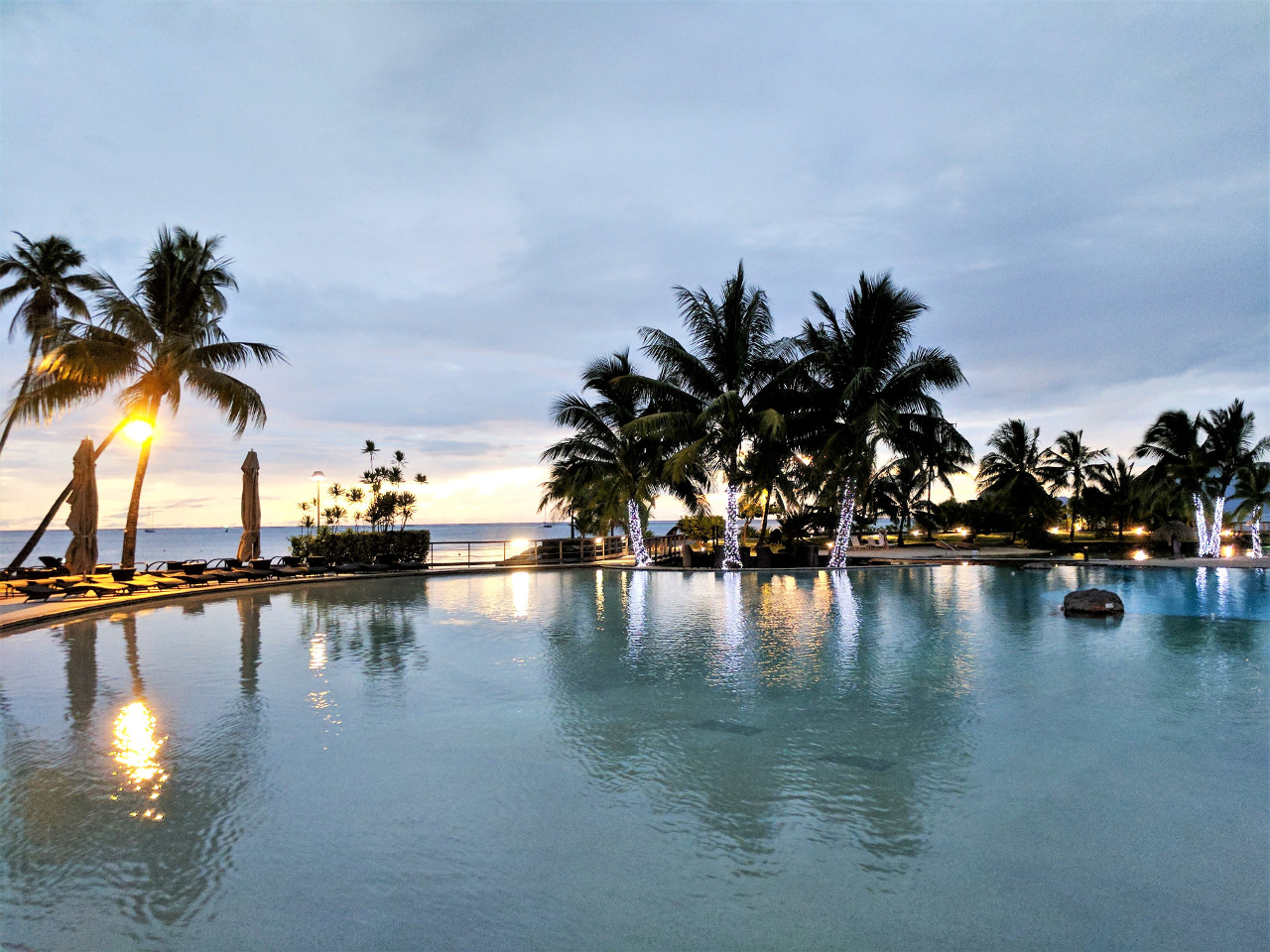 Tahiti is a beautiful, lovely place, and I highly recommend going there. It's definitely a bit far to travel to from the States, but well worth the journey. I'm hopeful that one day we can go back and stay longer than we did on this trip, partake in some activities and really explore the island.