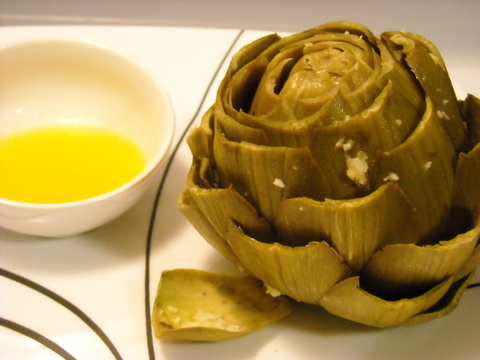 I love artichokes. I usually have them stuffed, and though delicious, they can be a bit too filling. I wanted to make them lighter and simpler. I also melted some Earth Balance on the side to dip the tip of each leaf into. Once I was done with the leaves I was left with the heart; I removed all the fuzzy "choke" with a spoon and then ate the soft heart – so delicious!
Ingredients
3 artichokes
3 cloves minced garlic
1 tablespoon Earth Balance
Directions
1. Fill a large pot about 2 inches deep with water and bring to a boil.
2. Prepare the artichokes, cutting off the stems and the pointy tips of each leaf. When done with each one, press it face down on the counter to loosen and spread the leaves a bit.
3. Spread Earth Balance and garlic on each inner leaf.
4. Place a steamer in the pot and place the artichokes on top. Cover with lid and steam for about 25 minutes or until leaves pull off easily.