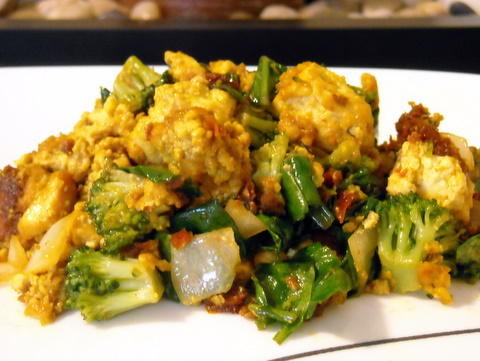 I have made a few tofu scrambles since becoming a vegan, but this is the best recipe I've tried thus far. I pressed the tofu when I made this, something I didn't do when I first started cooking with tofu, and I found it made a big difference in how well the marinade was absorbed. This recipe is adapted from One Green Planet and makes about four servings.
Ingredients
1 (14 ounce) block of firm tofu
1/2 white onion, diced
2 cups broccoli florets, chopped
6 sun-dried tomatoes in olive oil, chopped
2 cups baby spinach
4-5 tablespoons soy sauce
2 tablespoons sesame oil
1/4 cup nutritional yeast
1/2 teaspoon garlic powder
1/2 teaspoon ground cumin
1/4 teaspoon tumeric
Dash of cayenne
Dash of paprika
Olive oil as needed
Salt and pepper to taste
Directions
1. Press the tofu and break into pieces.
2. Add sesame oil, soy sauce and seasonings to a mixing bowl and stir or whisk together. Toss in the tofu and mix thoroughly.
3. Heat a pan on medium heat and add some olive oil, then sauté the onions until translucent. Add the broccoli, spinach and the sun-dried tomatoes. Cook for about 5 minutes, until the broccoli is softened. Transfer veggie mixture to another bowl.
4. Using your same pan, add a little more olive oil and the tofu. Cook the tofu for 10-15 minutes until it's a bit browned and a firmer consistency.
5. Add the veggies to the tofu and stir them through, heating for a couple more minutes.
Serve with a side of toast or fried potatoes.