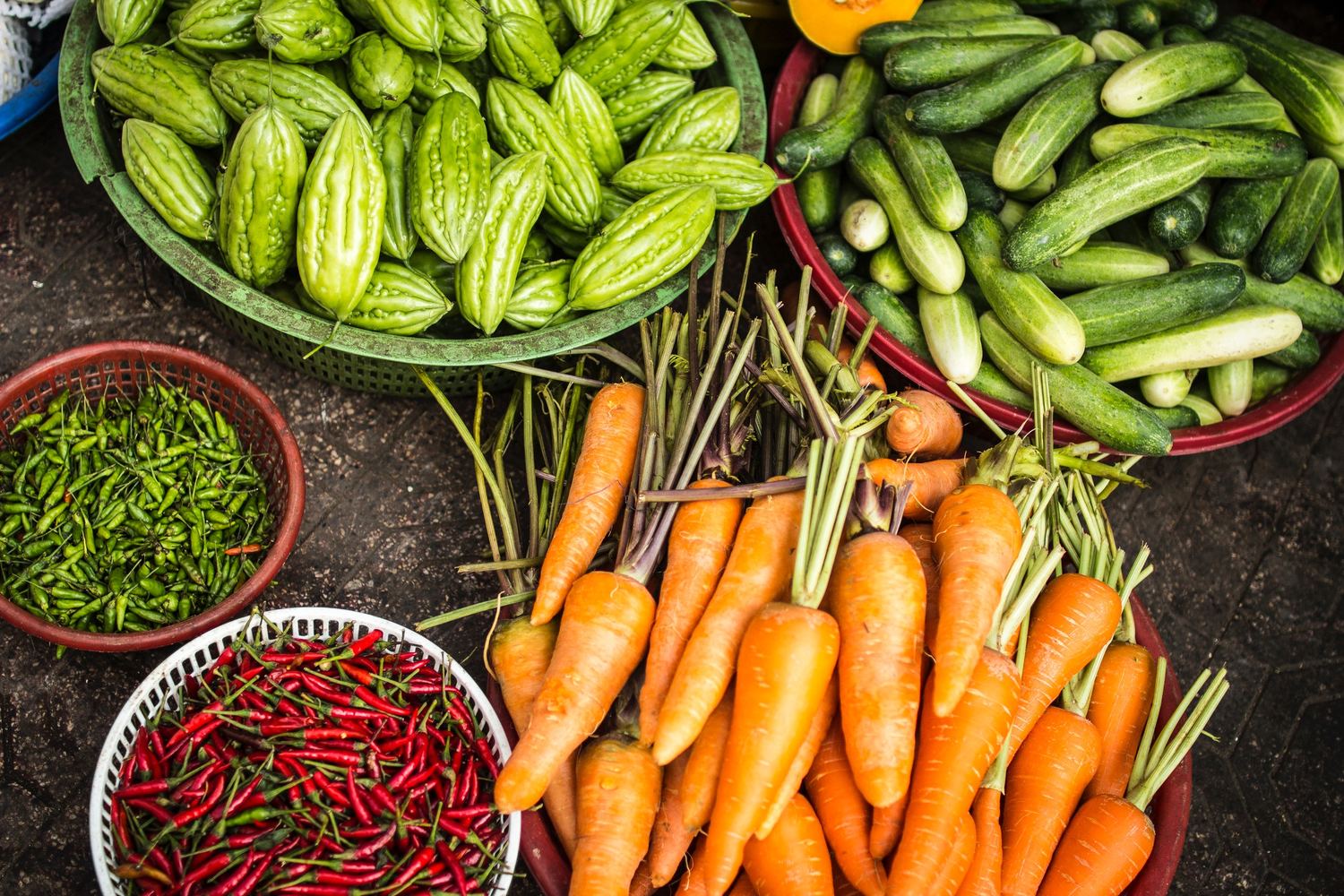 Changing your diet is a huge lifestyle adjustment for most people, so it's understandably more than a little confusing at first. Add to that the importance of getting all the necessary nutrients and vitamins from the food you eat, and you may feel frustrated before you even begin!
For me, nutrition was a big consideration before becoming vegan – which is actually kind of funny since I never cared about it at all as an omnivore. I had always assumed I was getting everything I needed, but I realize now that I definitely wasn't. So for me, going vegan provided an added benefit in that I actually learned more about what my body needs to be healthy.
I'm going to briefly address a few myths and concerns that are sometimes raised about vegan diets, and then provide a detailed list of common sources of nutrition for vegans.
Protein
The biggest thing people wonder about regarding vegan (or even vegetarian) diets is protein. The truth is, we have been grossly misinformed about the need for protein in our diets; in fact, too much protein is detrimental to our health, leading to problems with kidney function, weight gain, constipation and an increased risk of cancers.
Since most people in the U.S. follow the SAD (Standard American Diet, also called Traditional Western Diet or Western Pattern Diet), the average American ingests twice the recommended amount of protein per day. There is mounting evidence that a diet high in protein increases IGF-1 (Insulin-Like Growth Factor 1), which promotes the development of tumors. High protein diets are also linked to a decrease in longevity; interestingly, mortality rates are reduced if the protein ingested is derived from plants.
If you're very athletic, you probably will want to incorporate more protein into your diet – fortunately, you can get all you need from plant sources. This is also evidenced by the increasing amount of elite athletes who are going vegan, or who have been vegan for years, such as Scott Jurek and Rich Roll. A great resource is the blog No Meat Athlete, which I definitely recommend as it contains an abundance of excellent information.
Calcium
Calcium is another myth regarding vegan diets. Don't we need calcium from milk? Isn't it necessary for strong bones, especially for children and the elderly?
In reality, we believe what we do about milk as a result of lobbyists who are invested in the public buying their product. Dairy is actually quite bad for the body; it can result in inflammation and excess mucus production, and has been identified as a cause of precocious puberty. Plus, about 65% of the human population is lactose intolerant.
Cows' milk is for calves and designed to grow a baby cow into a 1,000-plus pound adult in a relatively short amount of time. Humans are the only animal who wean off their mothers' milk to then start habitually drinking the milk of an entirely different species. Plus, from an evolutionary perspective, it seems strange (as well as detrimental to survival!) that humans would have evolved in such a way as to require the milk of another creature to be healthy.
B12
B12 is something that most people supplement as vegans, or at the very least when starting out. B12 comes from bacteria in soil; humans have historically fulfilled their B12 needs by consuming plants containing remnants of the soil they grow in. In modern times, we wash our fruits and vegetables thoroughly, removing the dirt where this vitamin resides. Most omnivores meet their requirement by eating animals that have been supplemented with B12 (since animals raised in factory farms are not given the opportunity to graze and get their B12 naturally).
Many foods are now fortified with B12, but to be sure you are getting enough, it's highly recommended that you take a supplement, either daily or twice a week (more on this below in the section on B12 sources).
Soy
I am mentioning soy as it's been a bit of a hot topic in recent years. Just like with protein and calcium, there is an abundance of misinformation floating around about whether or not soy is bad for you. Some beliefs are that soy causes feminizing effects in men and that it increases breast cancer in women. However, studies have demonstrated that the intake of soy does not affect the testosterone levels of men, and there is no correlation with increased cancer risk and soy consumption.
Interestingly, although vegans and vegetarians often incorporate soy into their diets, many omnivores ingest it indirectly due to the fact that the animals they eat are primarily fed soy.
That being said, some people are indeed allergic to soy, and will need to obtain the nutrition it provides elsewhere.
Sources of Nutrition
Now that we've addressed some misconceptions, let's take a look at the various nutrient sources for vegans. All foods listed are in no particular order (though I did try to group them by type). Some items show up in more than one category; also, many greens tend to contain more nutrients (such as iron and calcium) when they are cooked rather than eaten raw.
Protein Sources  
Beans, lentils, grains, greens and mock meats like tofu, seitan and tempeh all contain enough protein to meet your daily recommended requirements.
Chickpeas

Black-eyed peas

Pinto beans

Navy beans

Kidney beans

Black beans

Fava beans

Lima beans

Lentils

Edamame

Flax seeds  

Sunflower seeds

Pumpkin seeds

Walnuts

Cashews

Almonds

Pine nuts

Pistachios

Quinoa

Green peas

Artichokes

Potatoes

Peanut butter

Seitan

Tempeh

Tofu
Calcium Sources  
Calcium is often found in dark green leafy vegetables and fortified plant milks.
Navy beans

Chia seeds

Almonds 

Amaranth

Kale (cooked)

Spinach (cooked)

Mustard greens (cooked)

Broccoli (cooked)

Bok choy (cooked)

Collard greens (cooked)

Tahini

Almond butter

Blackstrap molasses

Fortified plant milks

Tempeh

Tofu
Iron Sources  
You can consume these with Vitamin C to increase absorption; try to refrain from having with coffee/tea which limits absorption. Cooking with a cast iron skillet also imparts iron into your food – up to three times more than if you cook in non-iron pans!
Chickpeas

Black-eyed peas

Lentils 

Pumpkin seeds

Chia seeds

Flax seeds

Cashews

Pine nuts

Macadamia nuts

Quinoa

Amaranth

Oats

Spinach (cooked)

Kale (cooked)

Oyster mushrooms (cooked)

Potatoes 

Dried peaches

Dried apricots

Blackstrap molasses

Tomato paste

Tempeh

Tofu
Omega-3 Sources  
Commonly thought to only be found in seafood, it comes from several plant-based sources as well, some of which (like chia seeds) actually contain more omega-3 than salmon.
Flax seeds

Flaxseed oil

Chia seeds

Walnuts
B12 Sources 
Meat substitutes are often fortified with B12, as well as various cereals and non-dairy milks.
Nutritional yeast

Fortified soy and nut milks

B12 supplement (at least 2.5 mcg (micrograms) twice a day or 1000 micrograms twice a week) – you may want to find one that you take sublingually (under the tongue) in order to increase absorption efficiency.
Vitamin C Sources  
Quite a few fruits and veggies are excellent sources of Vitamin C.
Red bell peppers

Green bell peppers

Broccoli

Cauliflower

Cabbage

Kiwi fruit

Oranges

Strawberries

Pineapple

Grapefruit
Vitamin D Sources  
Most people, whether vegan or not, are somewhat deficient in Vitamin D, which is produced by our bodies via sunlight. Up to 30 minutes of sun exposure a couple of times a week can help, but if you're like me and burn easily, you may want to supplement this with a daily vitamin. The recommended dose is 600 IU per day (IU meaning "International Unit"); 600 IU translates to 15 mcg a day.
Blackstrap Molasses
Finally, I want to mention blackstrap molasses, something I had never even heard of before I went vegan. After doing some research on it, I bought a jar right away! I personally don't find it particularly tasty – it has a strong flavor that isn't as sweet as regular molasses, and is a thicker consistency.  I know that doesn't sound very appealing, but here's the thing – it's quite good for you. It contains calcium, magnesium, potassium and iron, and is also believed to have numerous other health benefits. Many people take a spoonful or two of it a day as a supplement; it can also be added to some recipes, bearing in mind that it should not be used as a true replacement for molasses since the flavor is quite different!
As you can see, it's relatively easy to get all of your nutritional needs met on a vegan diet – you may initially just need to think about it a bit more than you would normally be accustomed to. A great thing to keep in mind is to make sure you have plenty of variety – it's often recommended to "eat the rainbow", since the more colorful your plate, the greater the range of vitamins and minerals you're incorporating into your meal. This will assist in ensuring you eat an adequate amount of fresh, natural whole foods as well.
This post contains Affiliate Links; please read our Affiliates Disclosure for more information.