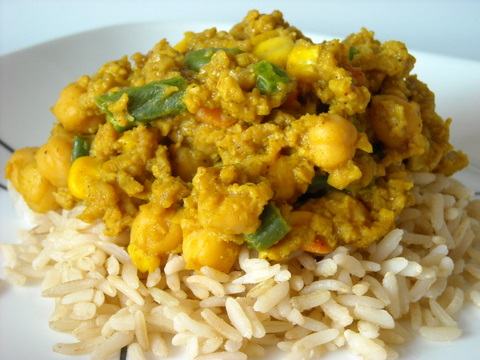 Another very nice recipe adapted from The Vegan Stoner.  This turned out to be excellent, and the leftovers keep and reheat very well. I highly recommend using a good quality curry powder for this recipe to come out the best it can; some good brands are Indi Special Madras Curry powder and Grace Jamaican Curry powder.
Ingredients
1 (15 ounce) can of chick peas, drained
1 cup of frozen mixed veggies (I used corn, carrots and green beans)
1 cup of plain coconut yogurt
1 tablespoon curry power
1 teaspoon garlic powder
1 cup of instant brown rice
Sea salt and pepper to taste
Directions
1. Heat frozen veggies in microwave (be careful not to overheat) or on stove top.
2. Boil instant rice according to package instructions.
2. While rice is cooking, combine coconut yogurt, veggies, chickpeas and seasonings in a pan. Cook over medium heat until curry powder is absorbed, chickpeas are softened and the mixture is heated through; serve over rice.