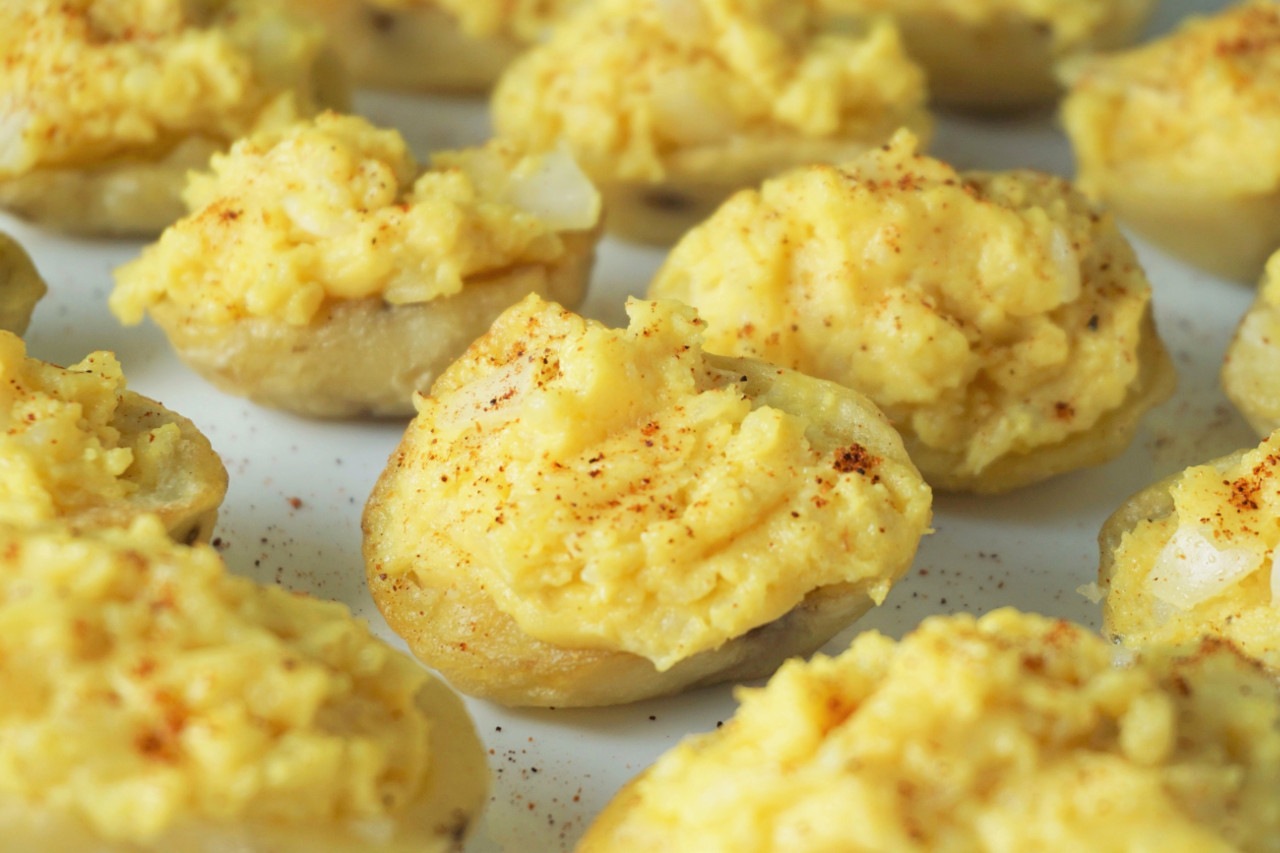 I've often though deviled eggs were the perfect party food – bite-sized, suitable for all types of toppings, soft and delicious. I could easily put away five or six at once (if not more!).
Being vegan doesn't mean that type of appetizer is a thing of the past – not when you have little potatoes! The idea of eating cold potatoes may seem a bit weird at first, but it honestly works perfectly to replicate deviled eggs.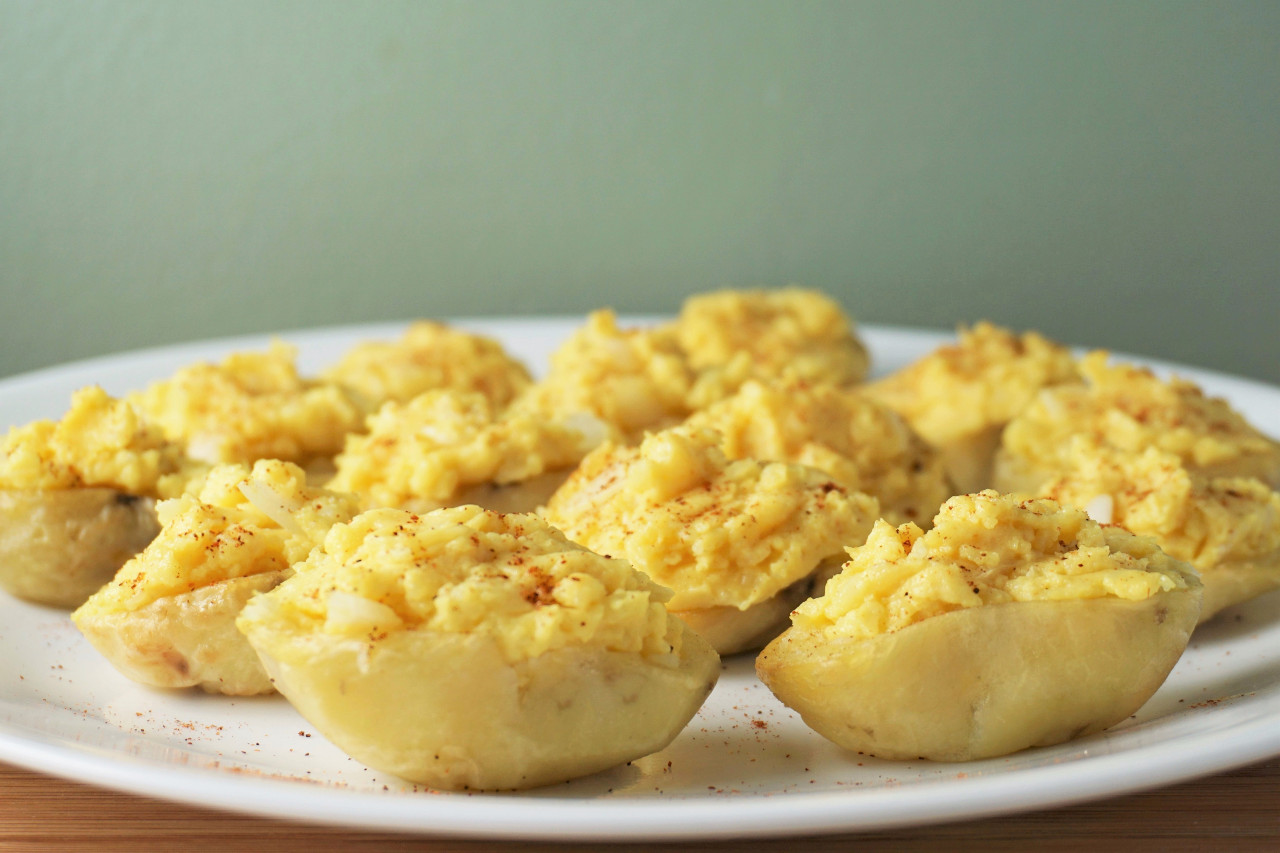 This recipe is a little time-consuming, mainly in the amount of time it takes to peel and cook the potatoes, and then waiting for them to cool down enough to be handled. It's also a bit fiddly to fill them – you can use a piping bag to pretty them up, or just fill them in with a spoon like I did here.
I used kala namak in this (which I also use in my Tofu Eggless Salad), to give it more of an egg flavor. It's optional, but I do like the extra "eggy-ness" it adds.
You'll want to use young, small potatoes for this recipe, and I recommend trying to find ones that are as uniform in size as possible for the "egg" illusion. You will also want to peel the skin for the same reason, but if you're okay with them looking less like eggs you could definitely skip that step and eat them with the skin on – I haven't tried them that way but I'm sure they would still be delicious!
These are great to bring to potlucks and barbecues, or to make as a nice appetizer for holiday gatherings. You can add toppings to them, or just eat them plain (like I usually do!).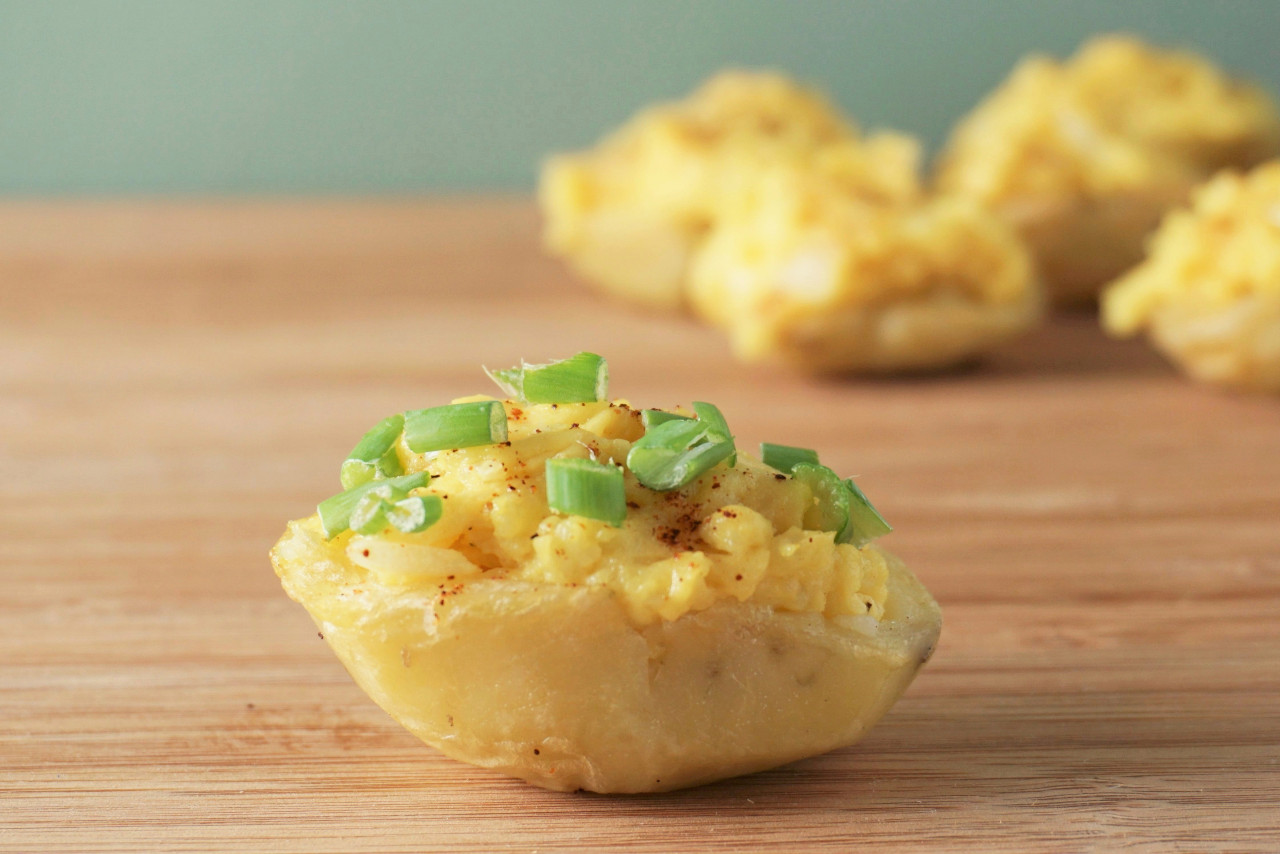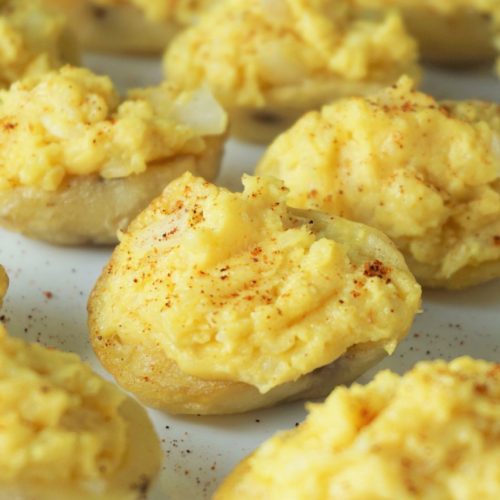 Deviled Potatoes
These potatoes are an awesome substitute for deviled eggs and the perfect appetizer for a potluck or barbecue.
Servings
12
deviled potatoes
Ingredients
6

young small potatoes

1-2

Tbsp.

olive oil

4

Tbsp.

vegan mayonnaise

1

tsp.

Dijon mustard

2

Tbsp.

onion, diced

(white or yellow)

Dash

of Sriracha

Dash

of Kala namak

(optional)

Dash

of tumeric

Paprika, as needed

(for sprinkling on top)

Salt and pepper to taste
Instructions
Preheat oven to 350 degrees Fahrenheit.

Peel the potatoes and cut them in half length-wise. Coat them in olive oil and place on a pan lined with parchment paper.

Bake for 30-40 minutes, until they are soft (if you cook them too long they may brown a bit on the edges, which is fine but will make them look less egg-like). Once they are done, allow them to cool for a while (they will be very hot!).

Combine all other ingredients (except paprika) and mix thoroughly, then set aside.

Once the potatoes are cool enough to handle, scoop out the middles (from the flat side) to make little cups where the filling will go. Add the scooped-out potato to the mayo/mustard/onion mixture and combine well.

Fill the potatoes with the mixture using a spoon or a piping bag. Sprinkle the paprika over the tops of the potatoes.

Enjoy immediately or chill in the fridge to save for later.
Recipe Notes
You can dress these up with toppings like olives, green onions, even sun-dried tomatoes or capers.
This post contains an Affiliate Link; please read our Affiliates Disclosure for more information.