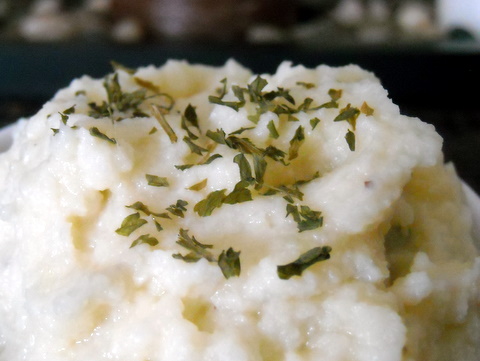 As much as I enjoy mashed potatoes, they can be very filling. Mashed cauliflower is a great alternative that is actually very easy to make. I love garlic so I added a few cloves to this, but you can put whatever spices you like. I also like to top it with a little Earth Balance as I would with mashed potatoes, though it doesn't really need it. This recipe is great served immediately, but can also be baked at 350 degrees for 20 minutes or so until nice and browned.
Ingredients
1 medium head of cauliflower
2-3 cloves of garlic, minced
2 tablespoons coconut oil
2 tablespoons nutritional yeast
1 teaspoon onion powder
Salt and pepper to taste
Directions
1. Wash and cut cauliflower into florets and boil until very soft, about 10-15 minutes. Drain.
2. Add cauliflower and other ingredients to food processor and blend until a nice smooth consistency.
Can be served as is, or garnished with scallions, parsley or chives.