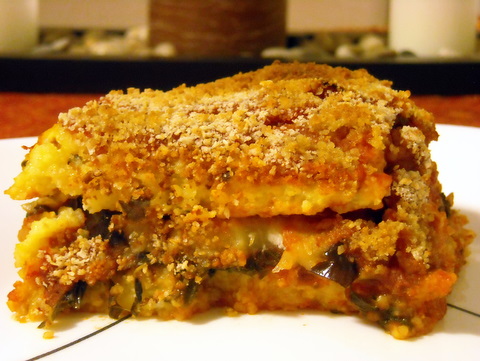 This recipe was my first attempt at making any kind of lasagna, as well as the first time I cooked with eggplant or polenta. I wanted to make a soy-free version, so this contains no tofu. A nice thing about this recipe is that it is lighter and much less filling than the more traditional kind made with pasta noodles.
Ingredients
1 cup of polenta
1 cup of kale
1 small eggplant
2 cups of organic tomato sauce
1/2 cup of breadcrumbs (optional)
About 1 teaspoon of olive oil (or olive oil spray)
1 tablespoon garlic powder
1 tablespoon onion powder
1 teaspoon parsley
1 teaspoon oregano
1 tablespoon Earth balance
1 teaspoon Italian seasonings
Directions
1. Bring 3 cups of water to a boil and add polenta. Reduce to a simmer for about five minutes, stirring often, until polenta has absorbed the water. Add garlic powder, onion powder, parsley and oregano. When polenta is done, grease a shallow bowl with Earth Balance; add polenta to the bowl, using a spoon to flatten the top. Once cooled, the polenta can be cut into slices.
2. Bring another pot of water to boil. De-stem kale and chop it into pieces. Chop the eggplant into round disks. Place eggplant pieces onto a baking sheet and baste or drizzle with olive oil (or olive oil spray) and Italian seasonings.
3. Broil eggplant for about 5 minutes. Boil the kale for about 3 minutes, until the leaves turn bright green. Strain kale thoroughly to remove excess water (it should be as dry as possible).
4. Thinly line a baking pan (I used an 8×8 glass pan) with tomato sauce. Place polenta slices first, then a layer of kale, then more sauce, then a layer of eggplant, more sauce, a layer of polenta and then more sauce. Top with breadcrumbs.
5. Bake at 350 degrees for about 30 minutes or until breadcrumbs are toasted.