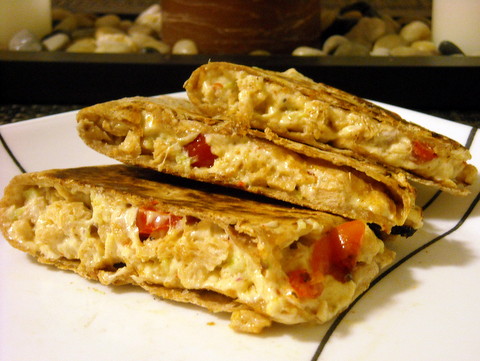 Quesadillas have always been a favorite of mine, and after having a vegan version of them at a local veggie spot I decided to try making my own. This recipe is very general and is meant to be a basic guideline. Quesadillas are so versatile and are great with veggies, olives, faux meats, beans, etc. I decided to use Westsoy seitan strips; they are pre-cooked and only need to be heated, so I just tossed them into my quesadilla without cooking them first. Each tortilla is one serving.
Ingredients
1 whole wheat tortilla
Daiya cheddar
Chopped tomatoes
Seitan strips
Directions
1. Spray a pan with cooking spray and bring to medium-low heat.
2. Spread a thin layer of Daiya onto half of your tortilla, then add the seitan, tomatoes and any other veggies of choice. Cover with more cheese and fold the tortilla over.
3. Transfer to the pan and cover with a lid so everything heats through. Cook for about five minutes (until tortilla is a bit browned and cheese is melted), flipping once.
4. Use a pizza cutter to cut into slices.
Serve with salsa and Tofutti sour cream.