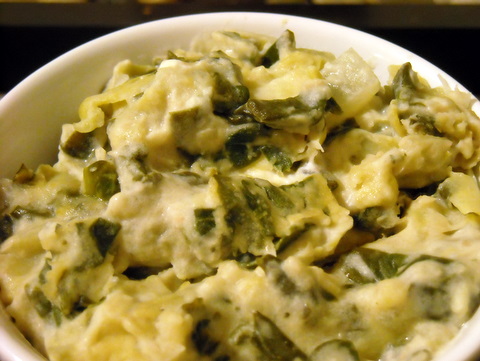 Spinach and artichoke dip is by far one of my favorite appetizers. It's so delicious and great for so many occasions. It's also one of the few appetizers that I feel works well whether served cold or hot, and goes equally well with both chips or veggies. This recipe is adapted from Yeah That Vegan Shit and serves about five.
Ingredients
1 (15 ounce) can of Great Northern beans or Navy beans
1 (15 ounce) can of artichoke hearts, rinsed and chopped
1 small white onion, diced
3-4 cloves of garlic, minced
4 cups of fresh spinach, chopped
2 tablespoons of nutritional yeast
1 tablespoon of olive oil
1 (8 ounce) container of vegan cream cheese (optional)
Pinch of salt and pepper
Directions
1. Preheat oven to 400 degrees. Heat a pan on medium heat, add olive oil and the onion and cook for a few minutes (don't let them brown). Add the garlic and sauté briefly, then the spinach and cook for several minutes more. Remove from heat and set aside.
2. Drain the beans and add into a food processor, blending until desired consistency is reached.
3. Transfer the beans to a large mixing bowl and add the cream cheese, mixing thoroughly. Add the remaining ingredients and mix, then transfer the dip into a baking pan.
4. Cover the pan with aluminum foil and cook for 20 minutes. Remove foil and cook for an additional 10 or 15 minutes, until slightly browned on the edges.
Serve with crackers, tortilla chips or veggies.