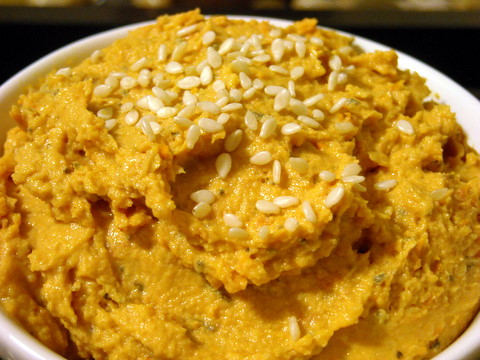 This is a simple, quick hummus recipe that can be made using either a food processor or a decent blender. I used the sun-dried tomatoes in oil, but the dried ones can be used as long as they are soaked in water first (for at least 20 minutes). I love this hummus on crudités, crackers or pitas.
Ingredients
1 (15 ounce) can garbanzo beans, juice retained
4 cloves garlic, minced
1/2 cup sun-dried tomatoes
3 tablespoons tahini paste
1/4 cup basil, chopped
1/4 cup olive oil
1/4 cup lemon juice
Pinch of salt
Directions
1. Add beans, garlic, tahini paste, basil, olive oil, lemon juice and salt to processor and blend until smooth. Add the retained juice until the desired consistency is reached.
2. Add sun-dried tomatoes and process until blended.
Serve as is, or garnish with sesame seeds or paprika.