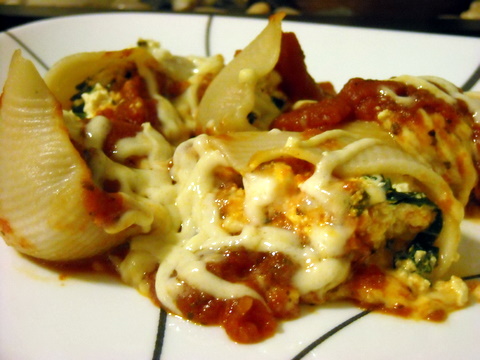 Who knew that tofu would be a suitable ricotta replacement? I love pasta and definitely consider it one of my favorite comfort foods. I used jarred tomato sauce for this recipe, but of course it would be that much better with homemade.  Even friends and family who are devoted cheese fans really enjoyed this and thought it tasted like "the real thing."
Ingredients
1 package whole wheat shells
1 container of extra firm tofu
2 cups of frozen spinach
1 tablespoon extra virgin olive oil
4 cloves of garlic, chopped
4-5 tablespoons nutritional yeast
1 teaspoon basil
1 teaspoon oregano
1 package of Daiya mozzarella
1 jar of organic tomato sauce
Sea salt and pepper
Directions
1. Boil shells according to package instructions; drain and cool.
2. Defrost frozen spinach in microwave (be careful not to overheat). Remove excess liquid.
3. In a mixing bowl, mash the tofu and combine the spinach, nutritional yeast, basil, oregano, and pinch of sea salt and pepper. Set aside.
4. Over low heat, sauté the garlic and olive oil for several minutes, then combine with the tofu.
5. Spread a thin layer of tomato sauce over the bottom of a baking pan. Stuff the shells with the tofu mixture and line up in the pan side by side.
6. Spread tomato sauce liberally over the shells, and sprinkle some Daiya on top. Cover with any remaining sauce.
7. Cover pan with aluminum foil and bake for 30 minutes at 350 degrees.