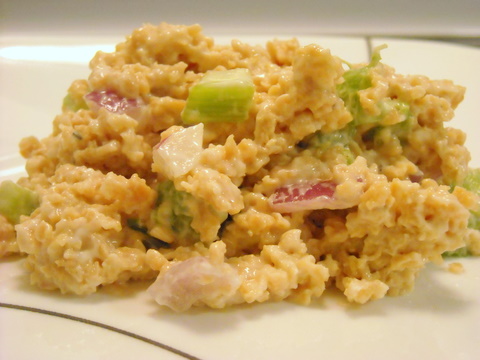 I adapted this recipe from the The Vegan Stoner, one of my favorite cooking blogs. Like all the recipes listed there, it lends itself to great creativity, as you can put whatever you want in your salad. I mixed my TVP with Vegenaise, chopped cucumbers, onions, Dijon mustard, garlic powder, sea salt and pepper.  Next time I may put capers in it and chopped celery as well. This is excellent on its own, in a sandwich or on whole wheat crackers.
Ingredients
1 cup of TVP
1/3 cup chopped cucumbers
2-3 tablespoons chopped red onions
3-4 tablespoons Vegenaise
1 teaspoon Dijon mustard
Dash of garlic powder
Sea salt and pepper to taste
Directions
1. Rehydrate TVP by adding one cup of boiling water; stir and let sit for about 10 minutes.
2. Once TVP has fully rehydrated and cooled, add other ingredients and mix thoroughly.