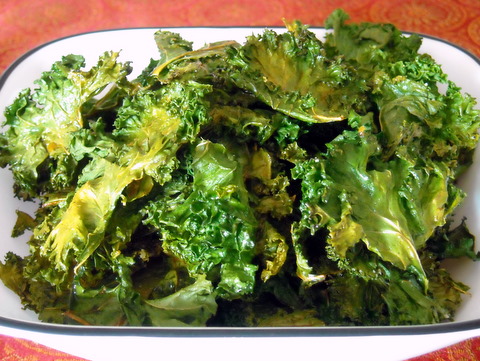 Kale chips: delicious, addictive and surprisingly good for you. They're a great alternative to potato chips – and a lot less greasy! When you tear your kale into strips, bear in mind that they shrink considerably when baked, so you can make the pieces a bit larger. Kale chips are a nice healthy snack that you can indulge in guilt-free.
Ingredients
1 bunch of kale
Olive oil spray
Sea salt
Nutritional yeast
Directions
1. Preheat oven to 350 degrees.
2. Wash kale and remove excess water, drying it as much as possible.
3. De-stem kale and tear into roughly bite-sized pieces; spread on baking sheet.
4. Spray kale with oil spray, then sprinkle with sea salt and nutritional yeast.
5. Bake until kale chips are crispy, about 10 minutes.