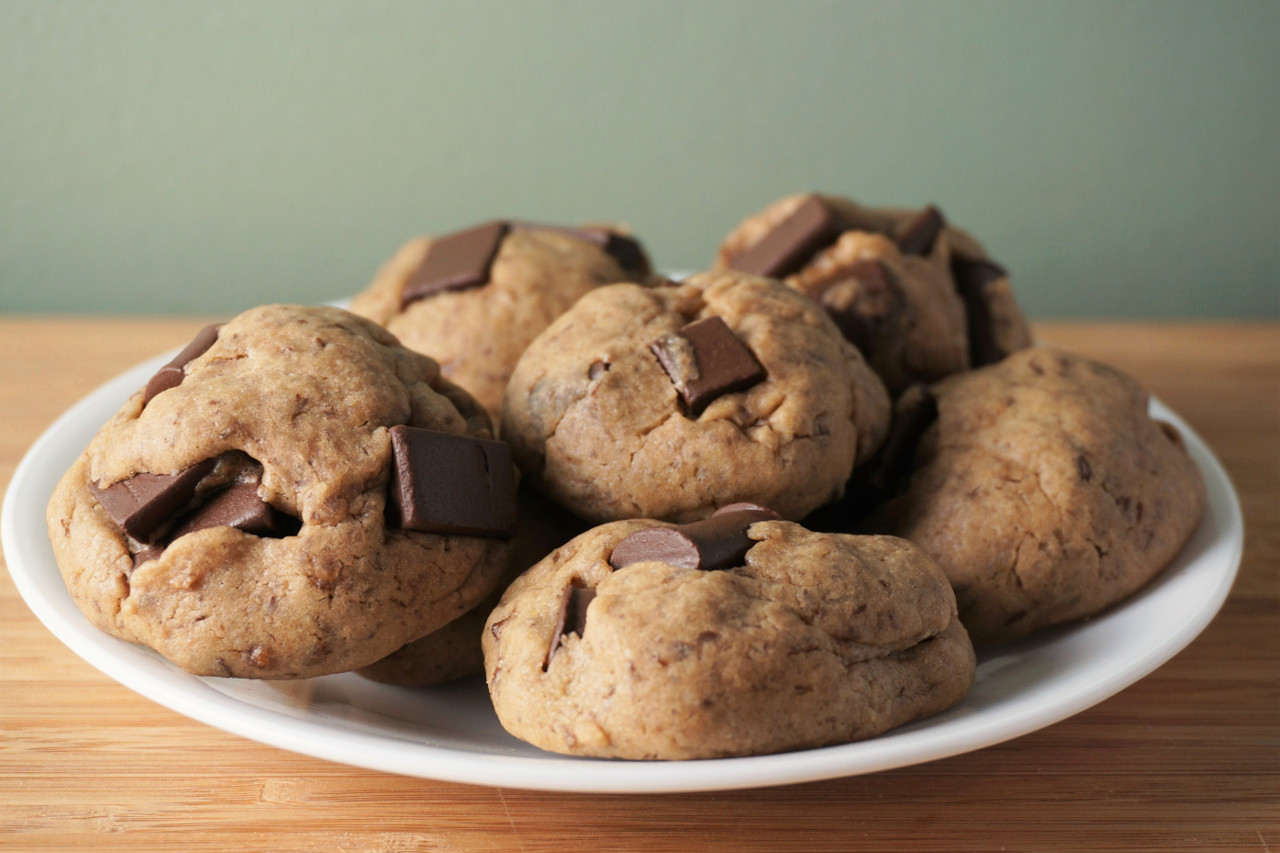 Like a lot of people, I'm a huge fan of cookies, and chocolate chip ones are definitely my favorite (anything with chocolate is a win in my book!). They make the house smell amazing while they're baking, and there's nothing quite like having them hot out of the oven.
I've often used pre-packaged mixes like Cherrybrook Kitchen Chocolate Chip Cookie Mix since it's quick and easy, but making them from scratch doesn't take that much longer.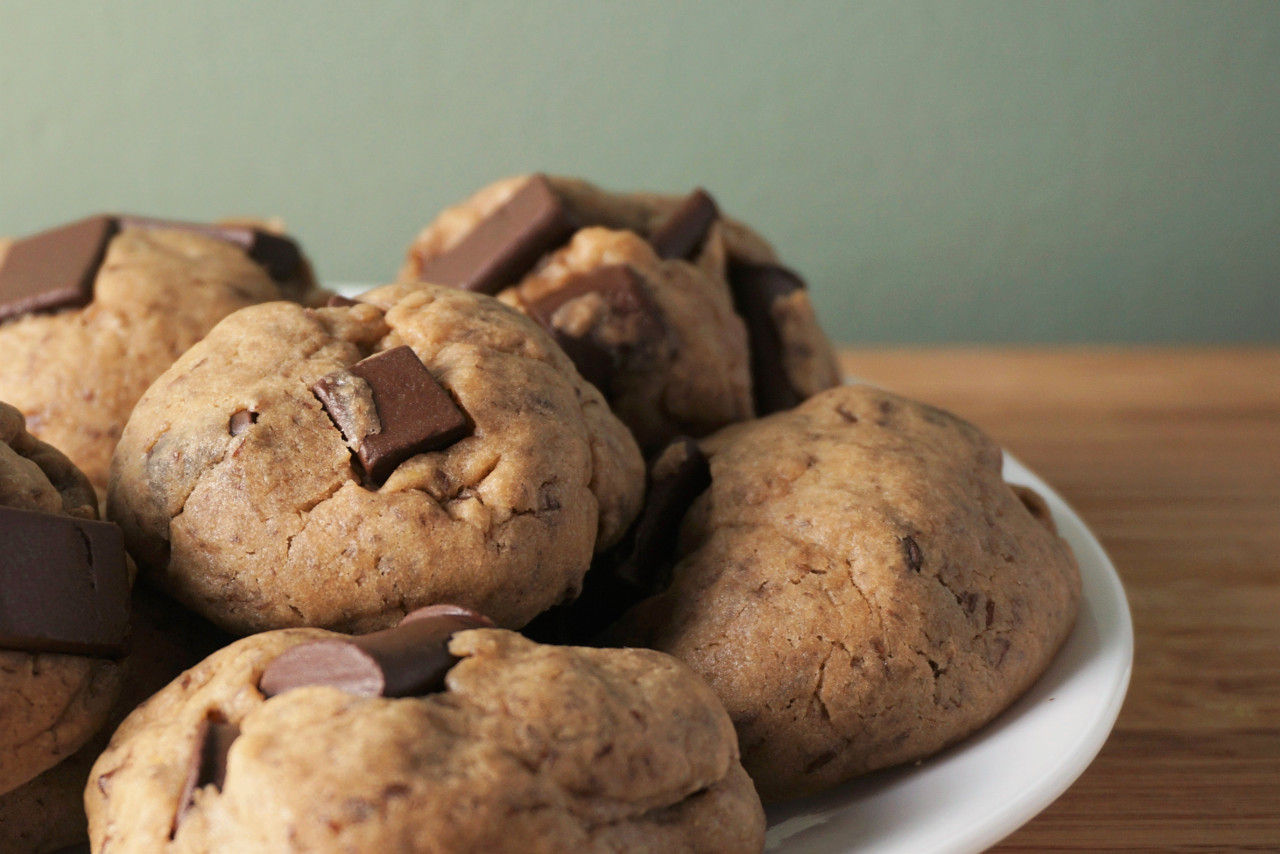 I used flaxseed meal for this recipe – usually the ratio for one flax egg is 1 Tbsp. flax to 3 Tbsp. of water, but I used less water and more meal to make a denser "egg". Alternately you could also use ground chia seeds to make a chia egg, or Egg Replacer.  
The chocolate chunks I used in this recipe were Enjoy Life Mega Chunks, which were indeed quite huge! You can also use chocolate chips for these instead if you prefer, like these Mini Chips that are also by Enjoy Life.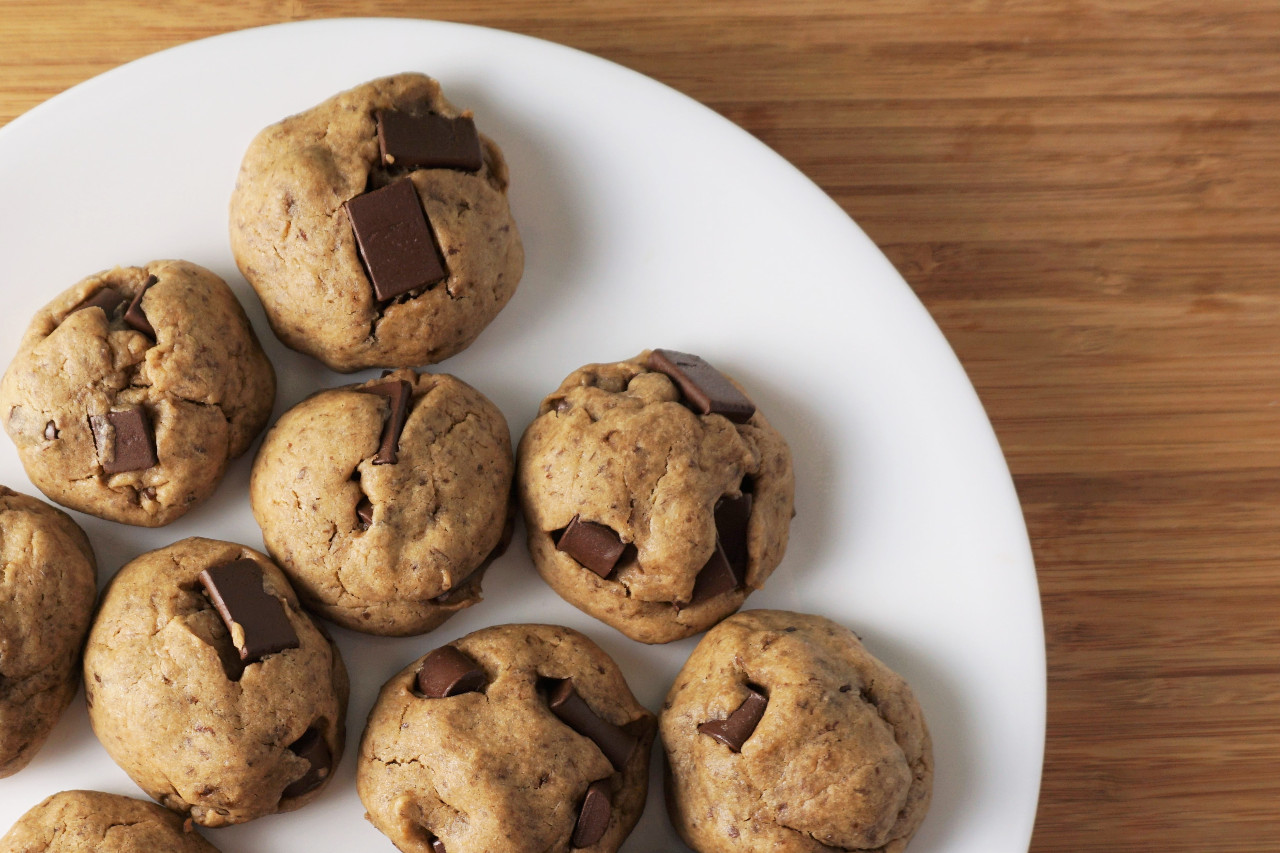 When I made these I formed them into little balls so when they baked they ended up a bit rounder; if you want flatter cookies, once they're on the baking sheet just flatten them down a little with the palm of your hand before putting them in the oven.
I really enjoyed these cookies and I plan on trying a future batch with a mixture of vegan white chocolate chips and macadamia nuts, or peanut butter and chocolate chunks. Yum!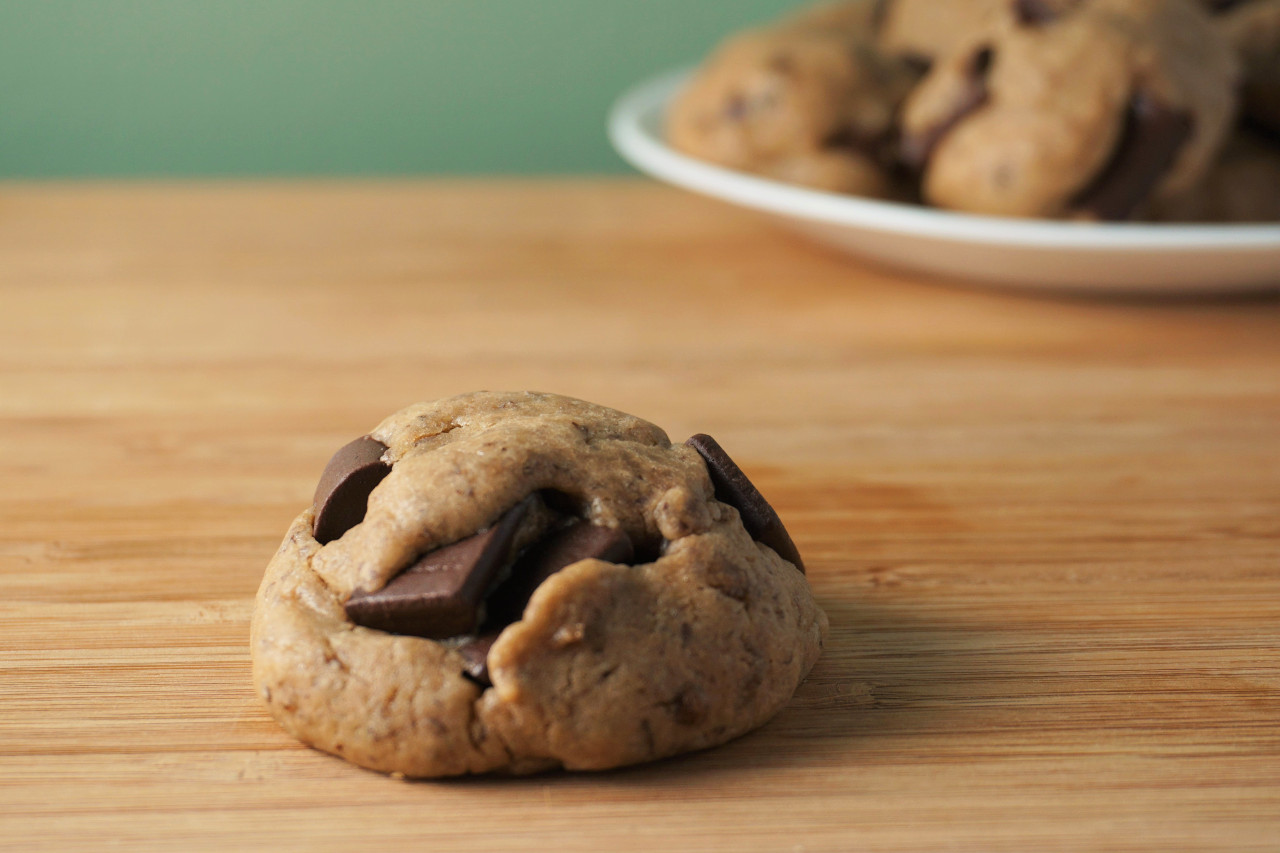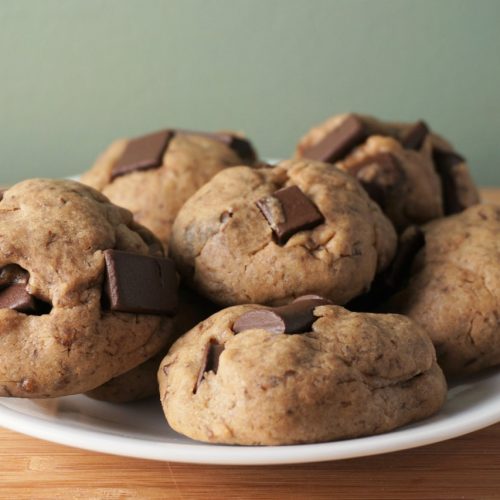 Vegan Chocolate Chunk Cookies
This recipe for vegan chocolate chunk cookies is easy to customize and perfect for satisfying sweet cravings.
Ingredients
Dry Ingredients
1 ¼

cup

all purpose flour

¼

tsp.

baking soda

½

cup

brown sugar

¼

cup

white sugar

⅛

tsp.

salt
Wet Ingredients
½

cup

vegan butter, melted

1

tsp.

vanilla extract

2

Tbsp.

ground flaxseed meal

3

Tbsp.

water
Instructions
Preheat oven to 300 degrees Fahrenheit.

In a small bowl, mix together the flaxseed meal with the water; let sit while you prepare the rest of the ingredients.

In a large bowl, mix together all the dry ingredients.

In another bowl, mix together the wet ingredients.

Combine the wet and dry ingredients, mixing until you end up with a thick dough. Add in the chocolate chunks and mix well.

Wet your hands and form the dough into balls. Place them on a greased cookie sheet, leaving space between them to expand. (You can also press down on them a bit to flatten them out.)
Recipe Notes
If you use chips instead of chunks, use one full cup.
This post contains Affiliate Links; please read our Affiliates Disclosure for more information.