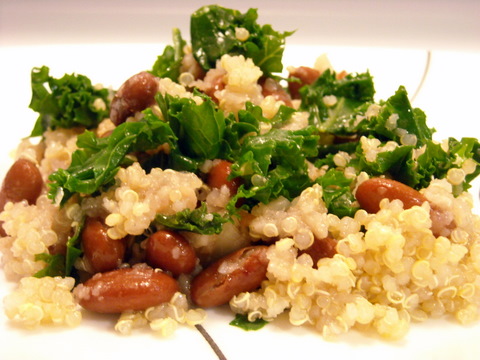 This dish has two things I never would have eaten as an omnivore: kale and quinoa. Quinoa is a complete protein, meaning it has a sufficient amount of nine of the essential amino acids required for human dietary needs. I love its light fluffy texture, versatility, and even its appearance. Kale (which is now officially one of my favorite veggies) contains vitamins K and C, and is also rich in calcium and beta carotene. Here I mixed both with garlic that had been sautéed in olive oil, chopped water chestnuts and kidney beans. You can add additional spices to taste, as well as ingredients (I think this would also be delicious with ground cumin and chopped red onion). Very simple and easy. Makes about two servings.
Ingredients
1 1/2 cup of kale, chopped
1 clove of garlic, minced (more if you like garlic)
2 or 3 tablespoons extra virgin olive oil
1 (15 ounce) can kidney beans, rinsed
1 (8 ounce) can water chestnuts, chopped
Sea salt and pepper to taste
Directions
1. Add 1 cup quinoa to 1 1/4 cup boiling water; cover, lower heat and simmer for 12 minutes. Remove from heat and let stand for several minutes.
2. Boil the kale for about 2-3 minutes; drain, removing excess water. (Note: it can also be steamed.)
3. In a pot, sauté the garlic and olive oil over low heat for several minutes. Mix in the beans, kale and water chestnuts and continue heating, stirring occasionally.
4. Add the quinoa, mixing thoroughly, and serve.