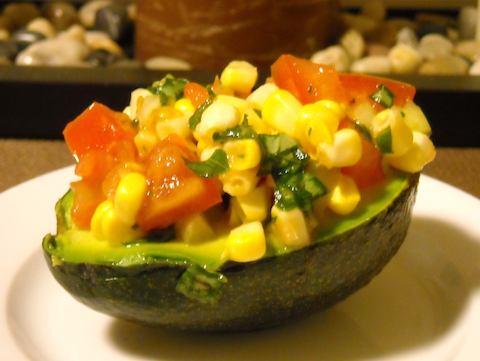 In the past few months I have really developed an interest in raw foods, and have even done several raw food fasts. Each time I notice how well my body responds to this type of diet, and how energetic and "light" I feel, both emotionally and physically. While some raw recipes can be very time-consuming, so many of them are quick, easy and satisfying. Stuffed avocados not only fit the latter category, but they are also fun to eat! Additionally, they are very versatile as to what they can be filled with; for a less raw version, they can be stuffed with various fillings such as amaranth, quinoa or TVP salad.
Ingredients
2 avocados
2/3 cup of raw corn
1/4 cup diced tomato
1 tablespoon of fresh chopped basil
1 tablespoon of olive oil
Pinch of salt and pepper
Directions
1. Mix together the corn, tomatoes, basil, olive oil, salt and pepper.
2. Cut avocados in half. Remove pits.
3. Fill each avocado with the corn mixture.
Serve with more basil on top as a garnish and a drizzle of olive oil.