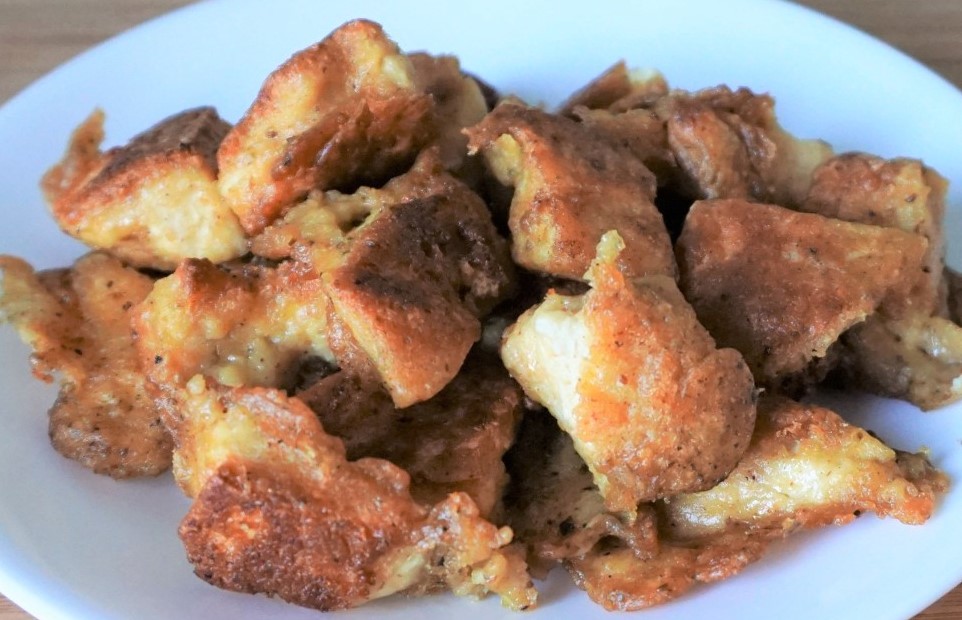 I have to be honest: I used to love KFC popcorn chicken. I thought they were little bites of deliciousness, and ate them way more than I probably should have! So I was very excited to try creating a vegan version when I saw a recipe for tofu popcorn chick'n by Shae from Happy Healing.

When I initially made this, I was really happy with how it turned out – it was yummy and definitely satisfied my craving. However I decided to experiment a little and adapted it with some adjustments.
The first change I made was to freeze the tofu, which I did after pressing and then breaking it into nugget-sized pieces. I put the tofu chunks in a plastic bag to freeze overnight; in the morning I moved them to the fridge to thaw for later. (Another way to freeze tofu is to put the whole unopened package in the freezer, remove it the next day to thaw and then press it.)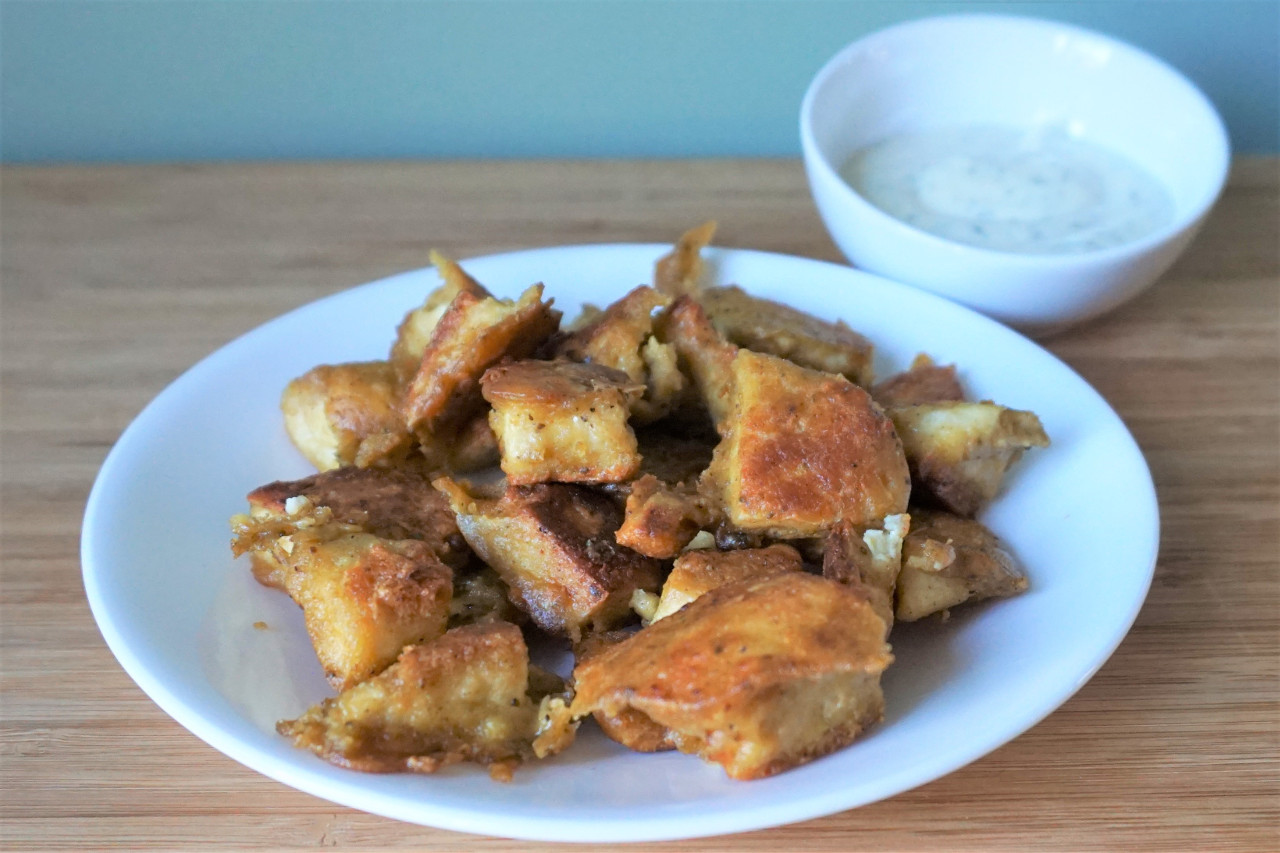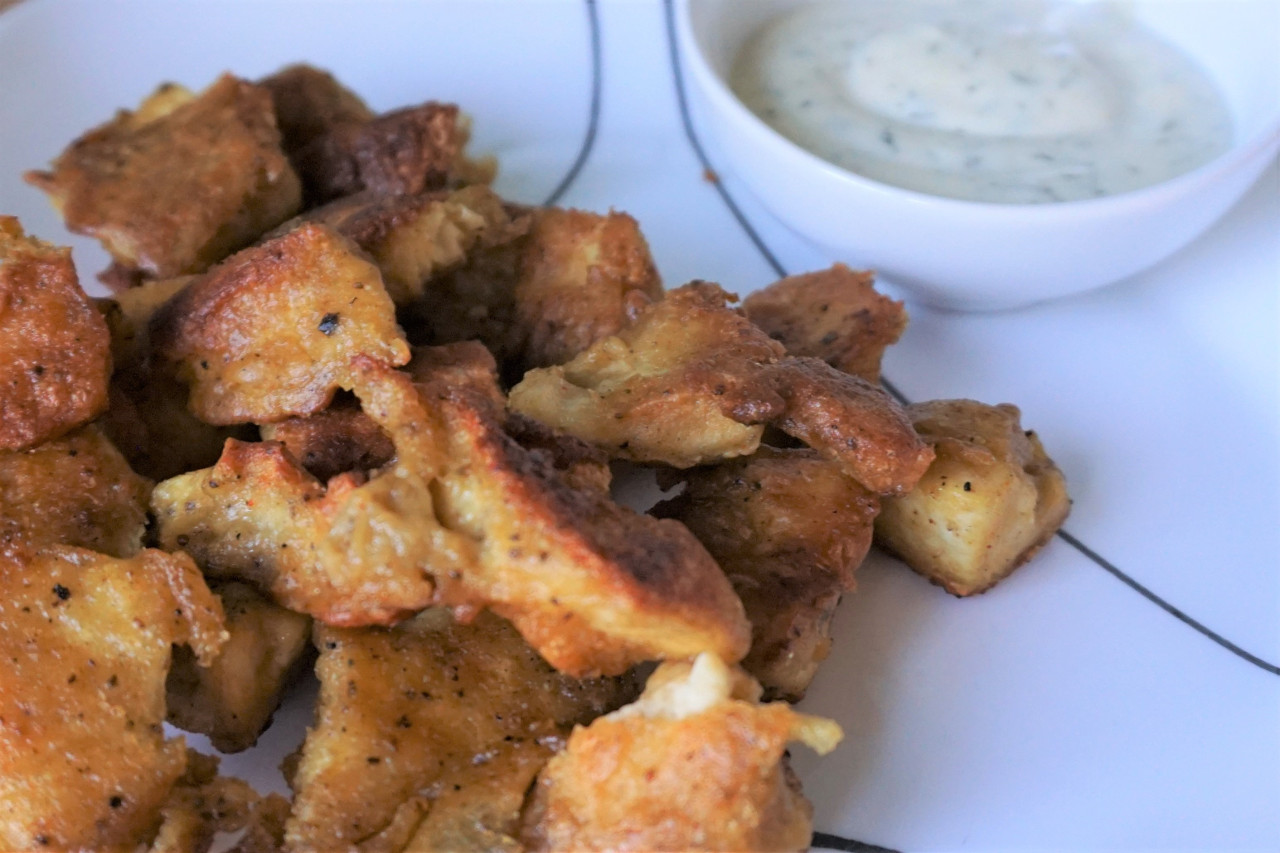 Freezing tofu gives it a firmer, denser texture that is a bit chewier and more "meat-like".  If you do decide to freeze your tofu, don't be alarmed if it turns yellow while still frozen! This is totally normal and doesn't affect the flavor at all; it will return to white once it's thawed.
The other changes I made were using regular all purpose flour instead of chickpea flour, omitting the mustard, and adding garlic powder. I used Old Bay as the all purpose seasoning – although Old Bay is traditionally used for seafood, it added a nice flavor to this which reminded me of fried chicken.
My favorite ways to eat these are with a little dipping sauce on the side (in the pictures I used my Easy Vegan Ranch Dressing), or thrown into a salad. Yum!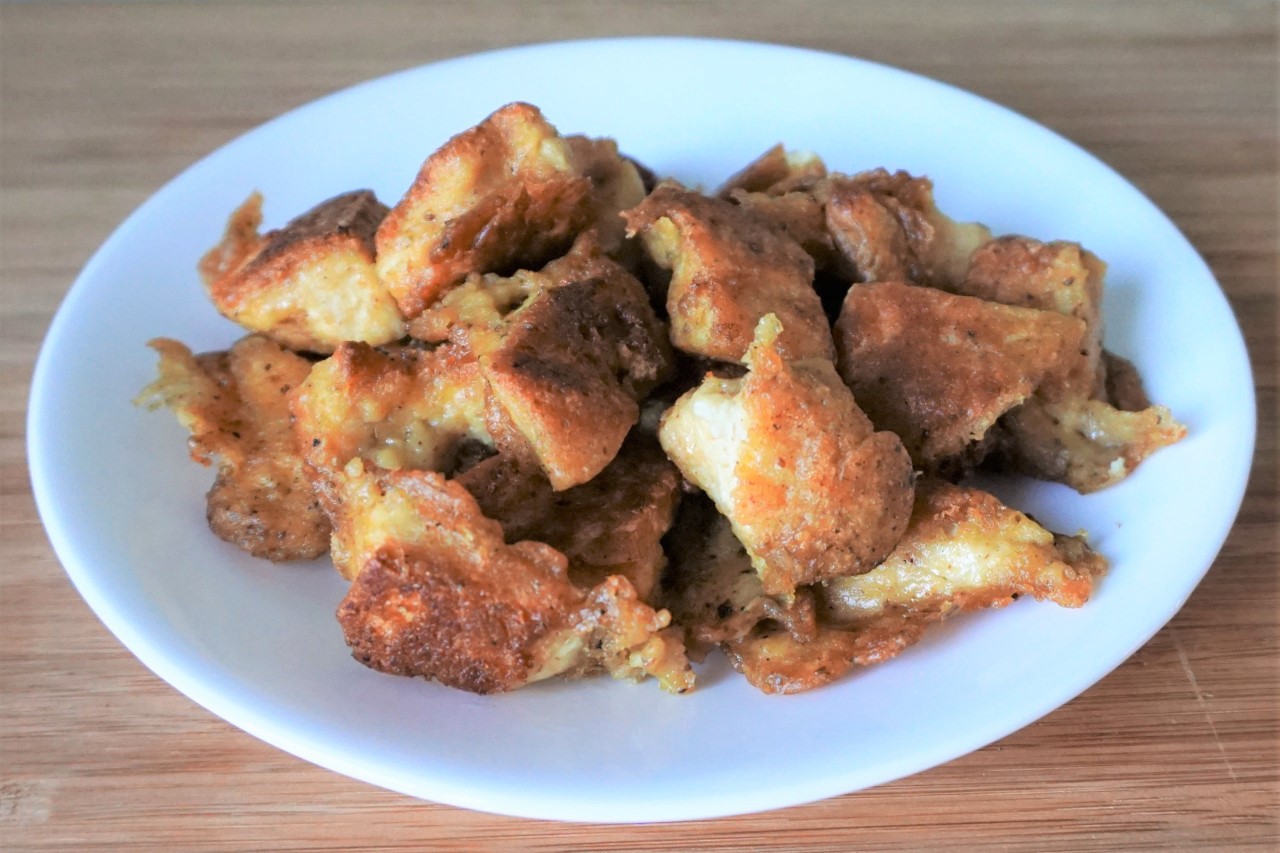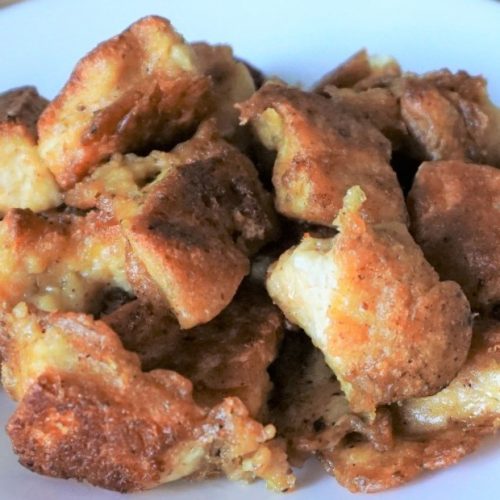 Tofu Popcorn Bites
An adaptation of Shae's recipe from Happy Healing, these tofu bites are crispy and delicious.
Ingredients
1

14 oz.

block of firm tofu

2

tsp.

Old Bay seasoning

¼

tsp.

garlic powder

⅓

cup

all purpose flour

¼

cup

nutritional yeast

1

tsp.

salt

½

tsp.

pepper

⅔

cup

water

2-3

Tbsp.

extra virgin olive oil
Instructions
Press the tofu and use your hands to break into bite-sized chunks. (At this point you can freeze it or just proceed to the next steps.)

In a mixing bowl, add the dry ingredients, then gradually whisk in the water until you've achieved pancake batter consistency.

Add the tofu chunks and mix well.

Add the olive oil to a pan and heat on medium.

Add the tofu to the pan, spreading it out so it will be heated equally. Cook pieces on both sides until they are browned and crispy; you may need to add a bit more oil so keep an eye on them (and watch out for splatters from the hot oil!).

When they're done, place on a paper towel-covered plate to absorb any excess oil.

Enjoy plain, with dipping sauce, or any way you like!

 This post contains an Affiliate Link; please read our Affiliates Disclosure for more information.